In the year since the second 737 Max crash, Boeing has overhauled much of its top leadership, including naming David Calhoun as the new chief executive and Stan Deal as chief of Boeing Commercial Airplanes.
Those changes have largely been viewed positively by aerospace analysts. They are optimistic Boeing's new leaders have skills needed to move the company toward recovery.
One major customer, Air Lease executive chair Steven Udvar-Hazy, believes Calhoun has a solid grasp of Boeing's challenges. He gives the company credit for its response to the Max grounding.
"Boeing has been out there working with customers," Udvar-Hazy says. "Overall the team has done a very credible job to support the requirements that have arisen as a result of these tragedies."
Some analysts think more staff changes might be needed to help repair relationships with customers.
But they praise the style and substance displayed so far by Calhoun, who took over in January, succeeding former CEO Dennis Muilenburg.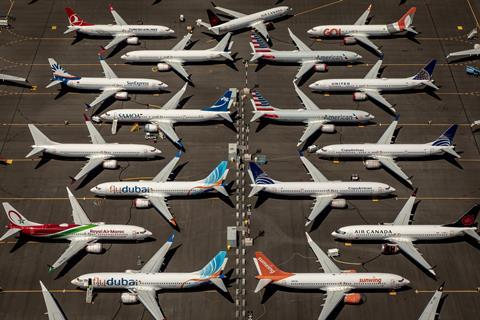 While Muilenburg drew grumbling for a tight-lipped style and failure to reach goals, analysts see glimpses of candor and accountability from Calhoun.
Such traits have won Calhoun, a longtime Boeing board member and former General Electric executive, early praise.
"I like his immediate contrast to the Muilenburg style," says Scott Hamilton, aerospace consultant and founder of Leeham News and Analysis. "Muilenburg came across as incredibly scripted, incredibly uncomfortable in any kind of a public forum, incredibly reserved. Calhoun comes across as much more animated, much more engaging and much more open."
Michel Merluzeau, aerospace analyst with consultancy AIR, describes Calhoun as taking over Boeing on "the morning after the earthquake". He praises Calhoun's deferent tone with the Federal Aviation Administration (FAA) and calls his openness "refreshing".
Several top leaders beyond Muilenburg also recently left Boeing, including former legal counsel and senior advisor Michael Luttig, who is viewed as crafting Boeing's legal response to the Max crisis, and former commercial aircraft chief Kevin McAllister.
Deal, who succeed McAllister, is "an exceptionally driven individual", says Merluzeau. "He's resolute and very defined in what he wants to achieve… He's one of the best leaders [Boeing] could have hoped for."
OPTIMISTIC SIGNS
Despite positive signs, watchers note Calhoun has been CEO a short time and that Chicago-based Boeing's challenges are many.
In addition to the 737 Max crisis, analysts think Boeing must quickly settle on a product development strategy. And the company, like the entire industry, faces significant uncertainty stemming from the coronavirus outbreak.
Meanwhile, thanks largely to the Max, Boeing faces sizable financial strain, losing $636 million in 2019. The company made a $10.5 billion profit in 2018.
In January, Boeing estimated Max issues will ultimately cost it $18.6 billion, including $8.3 billion in concessions to customers and $10.3 billion in production and programme costs.
Analysts note Calhoun already started mending Boeing's strained relationship with the FAA. Under Muilenburg, Boeing made optimistic projections about when the Max would return to service – projections earning Boeing and Muilenburg public reproach from FAA administrator Steve Dickson.
Calhoun has given Boeing more cushion, pegging the Max's return in mid-year.
"Pushing the Max return-to-service date out by months, to remove any kind of perceived pressure on regulators, was very smart," Teal Group analyst Richard Aboulafia says.
Observers initially expected Calhoun would be CEO temporarily – that he would set Boeing on course, then cede management to either a rising Boeing star or, possibly, an outsider.
That is no longer so certain.
"Depending on how the Max crashes come to a resolution, he might actually be there for a lot longer than initially thought," Merluzeau says.
Calhoun addressed his tenure in January, saying, "the board can have me as long as they want me".
When Calhoun does step down, Boeing might be best to replace him with an insider – a person with institutional knowledge and market vision who can execute Boeing's strategy, Merluzeau says.
The company's "rising stars" include Boeing Global Services chief executive Ted Colbert, who Merluzeau calls a "visionary" and "potential CEO material". Others to watch are president of the Embraer partnership and group operations Marc Allen, vice-president and general manager of Boeing Distribution Services Travis Sullivan and senior vice-president of manufacturing, supply chain and operations Jenette Ramos, Merluzeau adds.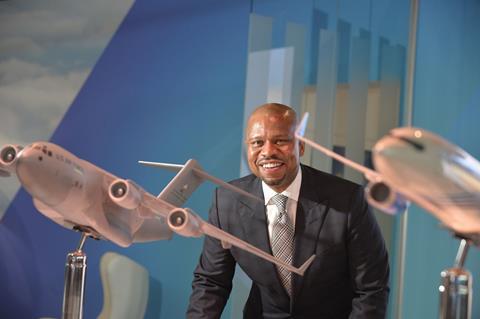 "There are plenty of names out there… that have the competency and knowledge of the enterprise and the vision to migrate upward," says Merluzeau. He thinks hiring an outsider who might institute another shakeup could be needlessly disruptive.
BEYOND THE MAX
The Max grounding may be the most critical issue facing Boeing, but the company's overarching commercial aircraft strategy comes close second.
Analysts describe Boeing as in a competitive pinch. The Max grounding disrupted its plans to develop a twin-aisle, 270-seat New Mid-market Airplane (NMA), which was initially scheduled for mid-2020s certification. That timeframe is critical, analysts say, because airlines need to replace aging 757s and 767s.
With NMA sidelined, Airbus stepped into the void last year, launching its own mid-market aircraft, the A321XLR, which has proved a hot seller.
Calhoun in January said he ordered a "clean sheet of paper" rethink of NMA and suggested Boeing might take a different path.
Some analysts say Calhoun rightly paused to review Boeing's direction; that any new executive would want a fresh review prior to making decisions with long-lasting implications.
"My only reservation about Calhoun is a big one: despite all these smart moves, will he commit the company to doing the right thing – launch a new mid-market jet?" says Aboulafia. "They need to very carefully think about their mid-market product strategy, and going with a twin-aisle design did not look like the best approach."
Aboulafia has suggested Boeing might develop a single-aisle jet dubbed the Future Single Aisle, which could replace both the NMA and 737.
Leeham's Hamilton thinks Boeing might "broaden" the NMA beyond the 270-seat market. He describes the NMA business case as questionable, noting airlines will need maybe 2,300 NMA-sized aircraft, half of which Airbus might supply.
TOP PRIORITIES
Udvar-Hazy sees Calhoun's priorities as improving morale within Boeing, cultivating a more "cooperative relationship" with regulators, working through compensation arrangements with Max customers and landing additional Max sales.
Calhoun must also address the NMA question and sagging demand for the 777X, which Boeing expects to begin delivering in 2021.
Boeing holds a modest 309 777X orders, and the coronavirus outbreak has significantly accelerated a slowing in Asia apparent even before the outbreak.
"The market has not evolved to [Boeing's] expectation," Udvar-Hazy says of the 777X. "Right now, the big is not so beautiful. Smaller-size, twin-aisle aircraft are now the flavour of the month."
And though demand might pick up in the coming years, several airlines with 777X orders might turn out needing fewer aircraft or later deliveries, he adds.
MORE CHANGES AHEAD?
Some analysts think Boeing Commercial Airplanes chief Deal might consider more changes to his department.
Merluzeau suggests John Slattery, head of Embraer's commercial aviation division, might excel as head of Boeing commercial aircraft sales, and perhaps also as head of marketing. Boeing is now working to close an acquisition of Embraer's commercial aircraft division.
"It's clear to me that the Max crisis has damaged relationships with key customers," Merluzeau says.
Udvar-Hazy, whose company holds order for 135 737 Max and 33 787s, thinks the sales team has been "very engaged" and "done a very good job considering their formidable challenges".
"We don't see any need for" sales team changes, "nor do I sense from Chicago that there are any thoughts about that", Udvar-Hazy says.
While Boeing has made good faith efforts to compensate customers, Udvar-Hazy notes the company can only do so much.
"It's not like they have an unlimited budget," he says. "There are going to be situations where not every customer is 100% happy."
A senior fleet executive at a major North American airline says Boeing's sales team has acted with "integrity" amid the Max crisis and kept him well informed.
Boeing's sales staff have held frequent calls with that airline, communicating "real-time information to us as best as they could", says the source, who asked to remain anonymous due to the sensitive nature of the Max situation.
"[I] have not at all felt like there is something lacking in the sales team whatsoever," the source says.
Five other large Boeing airline customers contacted by FlightGlobal either declined to comment or did not respond.
Boeing vice-president of commercial sales and marketing Ihssane Mounir calls his team extremely capable and experienced. He and his colleagues have customer relationships and product knowledge that can help customers and Boeing overcome the Max crisis, he says.
Mounir notes the 737 Max issues are "unprecedented" and that customers have been justifiably disappointed. He says his team has had the difficult job of informing frustrated customers of issues.
But Mounir insists the Max's problems should not be viewed as reflecting sales team performance.
His team is also helping negotiate Max-related settlements with customers and working to help alleviate fleet issues caused by the Max grounding. That sometimes means helping customers make broader fleet adjustments, tweaking services support or other forms of assistance, Mounir says.
"There are certain customers where we're having very difficult conversations about settlements," Mounir says, noting some discussions have proved more difficult than others.
"It's impossible for us to just settle to the tune of what they're asking, in some cases," he says. "Some customers, we have ways to address it, and others, you don't have ways to address it."
Udvar-Hazy concurs.
"A lot of customers are asking, I think, [for] a lot more than is reasonable. Others are more modest," he says.