Boeing's product development timeline became clearer on 2 November when the company said it will soon reveal a higher-gross-weight 787, while indicating it will not launch a clean-sheet aircraft development programme in the near term.
Speaking during an investor conference, Boeing chief executive David Calhoun also says Boeing does not intend its next aircraft programme to fill a market gap, suggesting the company has moved beyond its idea of developing a pure 757 replacement.
"We will introduce an enhanced-gross-weight 787 in the near future," Boeing Commercial Airplanes chief executive Stan Deal says during the event.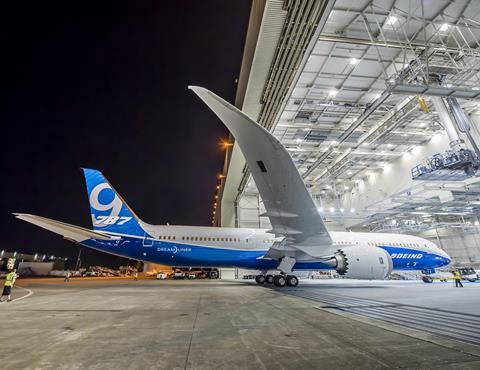 He does not elaborate about that plan. Analyst have surmised a new 787 variant – perhaps a cargo version – might be in the works.
As for a new narrowbody jet, Calhoun indicates Boeing's development is moving slower than some market analysts expected. Those analysts had anticipated the company might launch a clean-sheet jet to replace 737s in the next several years, for early-to-mid 2030s service entry.
But to attract airlines, the next jet must deliver 20-30% cost savings, achieved through more-efficient propulsion and use of advanced digital tools for development and production.
"There is nothing…in the propulsion side of the house – nothing – that is going to deliver that in this decade," Calhoun says of required fuel efficiency. "If it doesn't have a sustainability wrapper all around it, if it can't meet the emissions tests, if it can't deliver significant performance advantages, then there won't be an airplane."
Boeing is now developing, under military aircraft programmes, the types of digital modelling tools for development and production that it intends to use for it next commercial aircraft. But those technologies are not yet ready.
"To build those underlying technologies… That is what we are focused on," Calhoun says. "I don't think we are even going to get to the drawing board this decade."
"We won't contemplate a new airplane – we won't even put it on the drawing board – until we know we are capable of doing that," he adds.
Calhoun also dismisses the idea that hydrogen propulsion is ready for centre stage. The aerospace sector should not bank on hydrogen fuel as its path to achieving a goal of reaching "net-zero" carbon emissions by 2050, he says. "I don't think hydrogen is going to get us from here to there."
That sentiment sets Boeing apart from Airbus, which has said it is working on conceptual hydrogen-powered aircraft, possibly for mid-2030s entry.
While details about Boeing's next jet remain wholly unclear, Calhoun suggests the company is leaning away from a previous plan to roll out a so-called mid-market aircraft – one with about 270 seats that would replace its out-of-production 757, which fills a market niche between 737s and 787s.
Rather, Calhoun describes Boeing's next aircraft programme as filling a broader market segment, much as does its 737 family.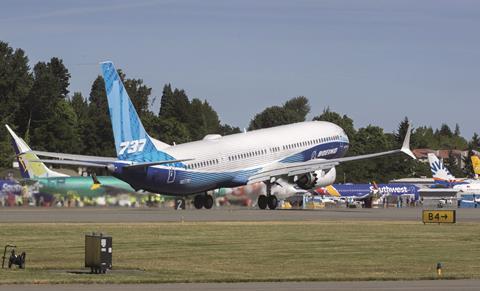 "I don't want to fill a gap in a product line. I want to build a product that is going to differentiate in a way that absolutely substitutes the airplanes that came before it," Calhoun says.
He also envisions Boeing's next jet as being "capable" of using advanced autonomy – though not necessarily at service entry – and frames Boeing's investment in electric air taxi developer Wisk as a means of advancing autonomy.
"It will educate the [Federal Aviation Administration] on how to certify autonomy," Calhoun says of Wisk.