Boeing's aircraft orders outnumbered cancellations again in April, marking the third consecutive month of order expansion for the Chicago airframer.
During April, Boeing logged orders for 25 jets and took cancellations for 17 aircraft, leaving the company with eight net new orders for the month, Boeing reports on 11 May.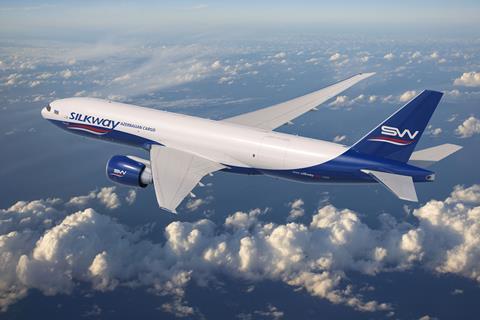 The 25 new orders include five 777 Freighters for Azerbaijan cargo carrier Silk Way West Airlines, 14 737 Max for lessor Dubai Aerospace Enterprise, three Max for lessor Air Lease and three more Max for an unidentified customer.
The 17 cancellations were all for 737 Max.
They include eight jets cancelled by SMBC Aviation Capital, three nixed by Air Lease, three scrubbed by lessor Timaero Limited, one axed by GE Capital Aviation Services and two Max cancelled by South African airline Comair.
The Air Lease activity – three Max orders and three Max cancellations – reflects "re-contracts for earlier delivery positions", Boeing says.
The 17 cancellations logged in April compare to cancellations for 16 Boeing jets in March.
The number of jets in Boeing's ASC-606 accounting bucket – which includes orders that Boeing suspects might not actually close – remained unchanged in April.
Though the aerospace market recovery remains "uneven", Boeing is "seeing airlines purchase equipment for replacement and potential growth," it says. "In some cases, leasing companies are seeing operators re-activating orders."
Boeing delivered 17 aircraft last month.
Notably, those included nine 787s, including eight 787-9s – three to Air Lease, two to Japan Airlines, one to United Airlines, one to ANA and one to Atlantis Aviation – and one 787-8 to American Airlines.
Boeing had halted 787 deliveries in November 2020, until March, due to a production issue involving what the company calls fuselage "skin flatness". Boeing aims, by year end, to deliver the majority of roughly 100 completed but not delivered 787s in its inventory, executives said in late April.
Boeing's April deliveries also included one 767F for FedEx, one 767-based KC-46 military tanker, two 777Fs for DHL, one 737 Max for Air Lease and three Max for Southwest Airlines.
Boeing's number of 737 Max deliveries declined in April due to an electrical-grounding issue that forced the company to pause Max deliveries and led airlines to ground about 100 Max. The fix will take several days per aircraft, Boeing says.
Boeing says 170 of 195 global aviation regulators have opened their airspace to the Max.
April's changes brought the company's backlog at the end of the month to 4,045 jets, including 3,239 737s.
In the first four months of 2021, Boeing logged cancellations of 230 jets and orders for 307 aircraft, leaving it with 77 net orders.