Boeing chief executive David Calhoun insists future narrowbody commercial aircraft will benefit from technologies advanced as part of Boeing's partnership with NASA to develop a truss-braced-wing demonstrator.
NASA on 18 January disclosed having hired Boeing to develop the demonstrator, part of a project aimed at improving the fuel efficiency of future civilian airliners by up to 30%.
"It will definitely have a role to play some day in the narrowbody world," Calhoun said on 25 January of the development programme. "There is real intent there".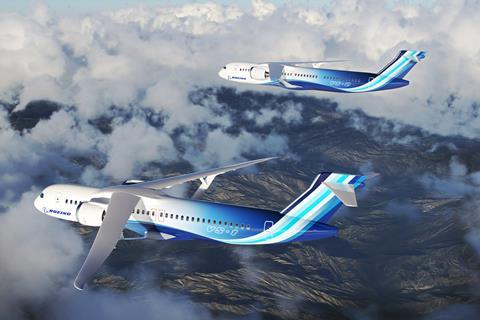 He adds that the truss-braced design is less promising for larger passenger jets, such as mid-market aircraft (comparable to 757s) or for widebody jets.
NASA plans to contribute $425 million towards Boeing's development of the truss-braced demonstrator, while Boeing and other commercial partners are to shoulder the expected $725 million balance.
The design involves an aircraft with long, slender wings mounted high on its fuselage. Such designs are complex, though longer wings can reduce drag.
NASA says the demonstrator will make its first flight in 2028.
Some analysts have expressed scepticism Boeing will ever actually end up using the design for an in-production aircraft, noting that Calhoun has recently expressed no interest in jumping into new aircraft development.
"If Boeing doesn't want a new jet, then this amount of money won't change that," says Richard Aboulafia, aerospace analyst with AeroDynamic Advisory.
Ron Epstein, analyst with BofA Securities, notes Boeing's executives have said they are waiting for improved engine technology before moving forward with a new aircraft.
But Calhoun describes the Boeing-NASA partnership as a means of advancing a concept that both it and NASA have studied for years. He says the programme will help Boeing "commercialise" the truss-braced-wing design.
Calhoun also says a future new aircraft must be 25-30% more efficient than current models – an improvement that will likely involve use of higher-bypass-ratio turbofans.
Such engines would be wider in diameter than today's turbofans but could possibly be accommodated by the truss-braced design's high-mounted wings, Calhoun says.
Boeing plans to spend an additional $300 million in research and development – mostly led by its commercial aircraft division – in 2023. That will bring its expected total 2023 research and development expenses to $3.2 billion, Boeing chief financial officer Brian West said on 25 January.