Bombardier has hiked its two-year revenue projections and now expects in the coming years to significantly increase the pace at which it delivers business jets.
The Montreal-based manufacturer disclosed new financial and operational targets during an investor event on 23 March, with executives now predicting the firm's annual revenue will top $9 billion by 2025.
Previously, Bombardier had put its 2025 revenue target at $7.5 billion. The company, which manufacturers super-midsize Challengers and large-cabin, ultra-long-range Global business jets, reported revenue of $6.9 billion in 2022.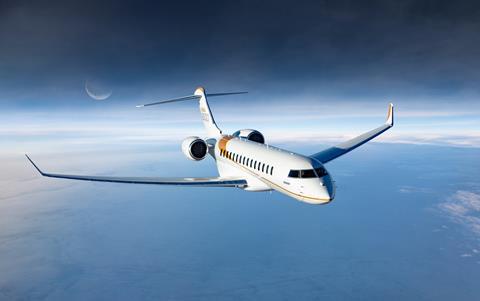 "With every passing quarter, we have built a foundation for a more-resilient business," says Bombardier chief executive Eric Martel.
Bombardier several years ago underwent a transformation that involved divesting non-business-jet segments, including its train business and its Dash 8 turboprop and CRJ regional jet programmes.
The company's business-jet revenue jumped 23% between 2020 and 2022, with revenue from aftermarket services up 50%, Martel says. The company has been opening new aircraft maintenance sites and recently launched a used business-jet sales business.
Martel notes Bombardier shed 45% of its debt in the last two years, while the value of its order backlog jumped 38% in the period, to $14.8 billion at the end of last year.
Amid that backdrop, Bombardier plans to push up its production in the coming years. The company delivered 123 aircraft in 2022, and had already said it aims in 2023 to hit at least 138 deliveries.
Now, Bombardier has extended its projections to include a goal of delivering more than 150 aircraft in 2025.
The target comes as Bombardier and the aerospace industry tackle supply chain troubles. Manufacturers have been struggling to increase production amid worker and material shortages.
Martel says supply chain issues continue affecting Bombardier's production but adds that the problems are "improving".
On the product-development front, Bombardier is working to bring its 8,000nm (14,816km)-range Global 8000 into service by the fourth quarter of 2025.
The company also continues advancing its "EcoJet" programme – an effort involving study of a blended-wing-body aircraft, Martel says.
Bombardier has been conducting test flights using a small-scale demonstrator. Its executives have said such a design, which uses its fuselage to generate 20-30% of total lift, could get by with 20% less fuel.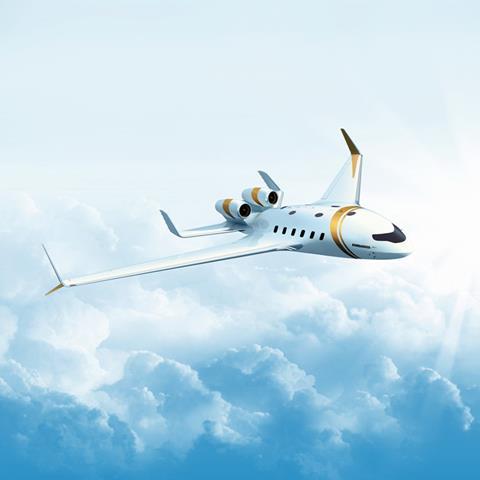 However, blended-wing-body aircraft pose challenges associated with flight controls, cabin pressurisation and certification.
Martel notes advanced technologies can take up to 15 years to mature, adding that some, though likely not all, technologies under evaluation via the EcoJet programme will make it on to future Bombardier jets.
"We are not ready for a launch," Martel says of Bombardier's next aircraft programme. "You never launch a project without having the technology extremely mature."