Bombardier aims to achieve 20% profit margins by 2025 through a mix of cost cutting, corporate restructuring, improved productivity, aftermarket expansion and increased sales of high-profit business jets.
Executives of the company, which lost $568 million in 2020, laid out that plan during an investor day on 4 March. They insist Bombardier's recent transition into what is solely a business-jet company will pay off in the coming years.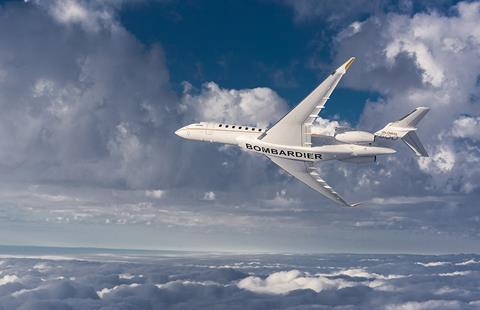 "We are well aware of what is required for us to be successful," Bombardier chief executive Eric Martel tells investors. "The overall goal here is to make the company more efficient and agile… establishing a low cost base to grow from when the market recovers."
In January, Bombardier divested its train business to French company Alstom, capping its transition from an aerospace-and-rail conglomerate into what executives call a "pure-play" business jet company.
By the end of 2021, the company will also stop producing Learjets, leaving it with two primary products: Challenger and Global business jets.
Challengers sit in the mid-size business jet market, and Globals in the large-cabin market – segments Martel stresses are the industry's most profitable and fastest growing.
"We expect that the largest growth will come in the segments [in which] we compete," Martel says. "We are competing in the most-robust market."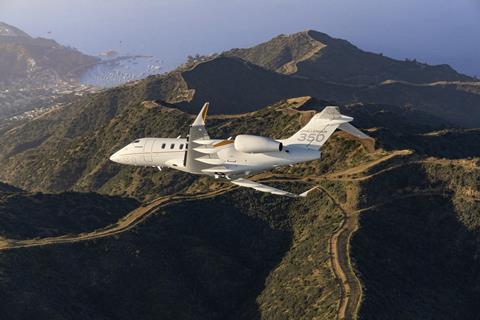 Bombardier aims by 2025 to generate $7.5 billion in annual revenue and to earn roughly $1.5 billion in annual profits (excluding interest, taxes depreciation and amortisation).
By comparison, Bombardier's aviation business generated $6.5 billion in revenue last year and lost $149 million.
Bombardier aims to trim $400 million in costs annually by 2023, with savings coming through a mix of job cuts, reductions in legal and consulting expenses and other efficiencies gained by becoming a smaller, less-complex business, executive say.
The company said in February it is eliminating some 1,600 jobs, most of them office and management workers. Those equate to about 10% of Bombardier's end-2020 workforce and will leave it with some 13,000 staff by the end of 2021.
Bombardier will also work to improve "labour productivity" and reduce its facilities footprint.
"We simply have more industrial and hangar space than we need," Martel says. "Our fixed costs will come down. This includes collapsing our corporate office group."
At the same time, Bombardier aims to expand its presence in the "more-resilient and -profitable aftermarket business", says chief financial officer Bart Demosky.
Specifically, the company intends for its aftermarket segment to grow 50% in the coming years and to generate 27% of Bombardier's revenue by 2025, u­­p from 18% in 2020, executives say.
The aftermarket push has been underway for several years, with Bombardier growing its services presence in places like Berlin, London, Miami, Melbourne (Australia) and Singapore.
In the coming years Bombardier will also focus on paying down debt, initially doing so with some of the $3.6 billion in proceeds it realised from January sale of its train business, executives say.
Bombardier's debt ballooned during its years developing the jet formerly known as CSeries (now the Airbus A220). The company held $10.1 billion in long-term debt at the end of 2020, financial filings show.
Story corrected on 12 September 2021 to note that Bombardier will stop producing Learjets at the end of 2021, not the end of 2020.