Despite another quarterly loss and scepticism from financial analysts, Bombardier's executives insisted on 6 August that the company remains on track to become a profitable standalone aviation business.
They say Bombardier's pending rail business divestiture and a new $1 billion loan will generate sufficient cash to restructure operations and weather the coronavirus downturn.
Bombardier reported a second-quarter loss of $223 million, though the aviation business turned a profit of $442 million before interest or taxes.
"I don't see reasons… why our business should not be in a position to deliver free cash flow [on] a regular basis," Bombardier chief executive Eric Martel told analysts during the earnings call. "We have refreshed our portfolio of products… We are starting on the right foot."
Bombardier is well into a transformation under which it is becoming a business aviation-only company. The Montreal manufacturer already sold much of its commercial aviation interests and is moving toward divesting its rail division.
But the pandemic has taken a toll, including by hampering its ability to deliver new jets.
Bombardier Aviation's second-quarter revenue slid 42% year on year to $1.2 billion, a period in which the division announced 2,500 job losses.
The company handed over 20 business jets (including five of its flagship Global 7500s) in the second quarter, down from 35 jets (including two 7500s) in the same period last year.
Prior to the pandemic, Bombardier had intended to deliver 35-40 7500s in 2020. Chief financial officer John Di Bert now predicts "something over 30" deliveries of the ultra-long-range type this year.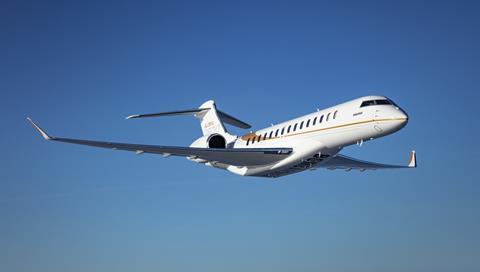 CEO Martel calls the second quarter a "historic low point" for the industries in which Bombardier operates, predicting industrywide business jet deliveries will show a 30% year-on-year decline in 2020.
"Business jet usage fell to levels far worse than during the financial crisis or after the 9-11 terrorist attacks," Martel says. "We expect the next few quarters will be challenging and difficult to predict as it is still unclear how the pandemic will unfold and what path the economic recovery will take."
Still, Martel calls longer-term trends "encouraging", noting business jet travel has already been recovering faster than the commercial air travel sector.
Order "cancellations are very limited", Martel says. "New interest in private air travel is [generating] sales activity."
More broadly, Bombardier's executives sought to strike an optimistic tone during the earnings call. They attribute much of Bombardier's struggles to its train division and say the business overhaul will leave the company well-funded and positioned for success.
Bombardier started the third quarter with $2.5 billion in cash and credit, though it expects "in the coming days" to close a new $1 billion loan, says Di Bert. The company intends immediately to borrow $750 million of that amount.
The money will primarily be used by Bombardier's aviation business "to manage working capital as we realign production to market demand", Di Bert says. "This loan is meant to be a temporary facility to allow us to bridge to a stronger capital structure."
Bombardier also expects "this fall" to close the $500 million sale of its aerostructures business to Spirit AeroSystems.
And in the first half of 2021 Bombardier expects to sell its train business to French company Alstom – a deal Bombardier says will net $4.2-$4.5 billion. It expects to use those funds to pay off half of the new $1 billion in credit.
The Alstom sale passed a major milestone in recent days when the European Commission approved the transaction.
Bombardier, which took a $435 million charge on the rail business in the second quarter, is now working to convert the non-binding sales deal into a firm contract, Martel says.
"The new charge we took this quarter highlights the urgency of achieving this objective," Martel says.
The divestitures and cash infusions will "position us to reshape our capital structure next year" and generate positive cash flow, he adds.
But some analysts on the earnings call question how Martel can be so sure, citing Bombardier's ongoing financial struggles.
"It seems like every quarter you guys report you burn a billion dollars in cash," Bank of America Merrill Lynch analyst Ron Epstein tells Bombardier executives. "How can we have any confidence in the second half that it is actually going to get better?"