Boom Supersonic has hired a Boeing propulsion veteran to lead development of the engine for its conceptual supersonic airliner.
Former Boeing executive Scott Powell has joined Boom as senior vice-president of the Symphony engine programme, the company said on 15 August.
Boom describes Powell as an expert in propulsion programme management who has experience leading large aerospace projects.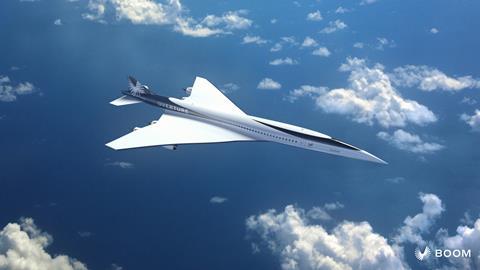 "Adding Scott's leadership and experience overseeing certifications for a wide range of civil and military propulsion systems only further strengthens our path forward with Symphony," says Boom chief executive Blake Scholl. "We've made significant design progress on Symphony."
Powell is managing Boom's "development, industrialisation, certification and integration of Symphony", the 35,000lb (156kN)-thrust air-cooled turbine Boom is developing for its Mach 1.7 passenger aircraft called Overture.
Much about Boom's engine development plan remains unknown, as does the business case for supersonic passenger aircraft.
Boom intends to have Overture certificated in 2029. Its latest designs see the jet powered by four Symphony engines, two mounted under each wing.
Powell joins Boom after working nearly 40 years at Boeing, where he most recently led engineering integration on the US Air Force's B-52 re-engining programme, according to his LinkedIn profile.
Earlier, Powell led fuel and propulsion engineering for Boeing's 767-derived KC-46 military tanker programme and managed 787-9 and 787-10 propulsion work. Powell also undertook propulsion work on Boeing's Sonic Cruiser supersonic airliner concept and for two fighter aircraft concepts.
"Powell brings nearly four decades of propulsion leadership and expertise in propulsion programme management, mitigating and developing solutions for complex programme risks and leading large product organisations and integrated product teams," Boom says. "He has extensive experience working with top-tier suppliers and engine manufacturers, and is an expert in certifications."
Boom said in June it had "identified Jupiter, Florida as the base for initial production" of its Symphony engine; Jupiter is home to Florida Turbine Technologies (FTT), a Kratos Defense & Security Solutions business which is helping to design the Symphony engine.
"Boom has an expanded partnership with [FTT] to assemble the initial production units for ground test, flight test and certification," it says.
"Boom will leverage [FTT's] considerable experience with supersonic engines, ensuring seamless continuity as Symphony transitions from design to production."
Neither Boom nor Kratos responded to requests for more information about the development of the Symphony engine.
Scholl said Boom has "made significant design progress on Symphony" but details remain scarce.
The company in December 2022 revealed its plan to develop the powerplant after former propulsion partner Rolls-Royce backed out of the project and none of the other major engine manufacturers could be persuaded to sign up.
On its website, Kratos says FTT "is focused on the development and production of small, affordable, high-performance jet engines for cruise missiles and Unmanned Air Vehicles". The most powerful engine in its portfolio is a 900lb-thrust-class turbofan, it says.
In addition to FTT, Boom is developing Symphony with maintenance support from StandardAero, while GE Aerospace is providing consultancy services around additive manufacturing.
Boom has also yet to complete first flight of its supersonic demonstrator XB-1, which it developed in support of the Overture effort. The company revealed the XB-1 demonstrator in October 2020, saying at the time that the jet would make its maiden sortie in 2021.
The Overture is to carry 64-80 passengers on routes of up to 4,250nm (7,871km). Boom intends to produce the aircraft at a facility in Greensboro, North Carolina.
This story has been edited to add more information on FTT in the 16th paragraph and to remove language implying that Boom just announced plans to produce initial engines in Florida. Boom disclosed that plan in June.