Boom Supersonic has publicly unveiled its XB-1 supersonic aircraft, a demonstrator Boom will use to develop a future supersonic passenger aircraft called Overture.
The Denver-based company revealed XB-1 on 7 October at a virtual rollout event, during which executives revealed production plans and highlighted XB-1's design features.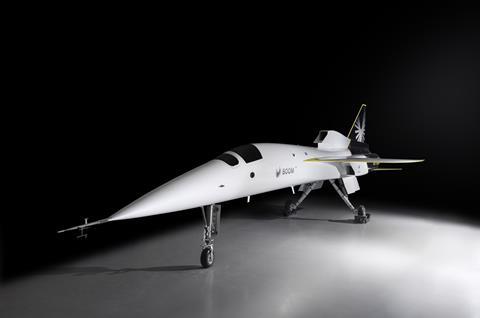 "At supersonic speeds, cities rarely visited can become major destinations," Boom founder and chief executive Blake Scholl says during the event. "We've begun to pave the path to a mainstream supersonic future."
Boom sees Overture as forging that path. Overture will carry 55-75 passengers in an all-business-class configuration, reach Mach 2.2 and have ocean-crossing range, Boom says.
But first up is XB-1, a one-third-scale Overture demonstrator.
Three, afterburner-equipped 12,000lb (53.4kN)-thrust GE Aviation J85-15 turbojets will power XB-1. J85-15s are part of an engine family that entered service in 1959 and are used on the US Air Force Northrop T-38 Talon supersonic jet train, according to GE.
Boom plans to fly XB-1 for the first time in 2021, with flight tests occurring from Mojave Air & Space Port in California.
XB-1 will allow Boom to evaluate technologies and features it expects to carry over to Overture.
Those include XB-1's engine inlets, which Scholl describes as among the jets most-technologically challenging aspects.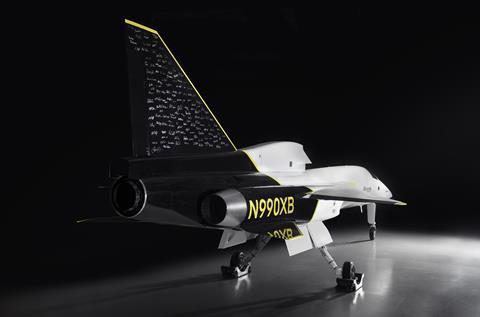 On supersonic jets, inlets have the critical job of slowing (and compressing) supersonic airflow to the subsonic speeds the engines require, notes Scholl.
Boom chief XB-1 engineer Greg Krauland notes XB-1 has a "long, slender fuselage" – measuring 21.6m (71ft) front to back – a carbon-composite airframe and a narrow, swept wing. The wing allows high-speed efficiency and low-speed stability, he says.
Using carbon fibre enables Boom to mould large, strong and complex airframe components, and to make those components thicker and stronger in specific areas as required. Carbon fibre also expands less than metal when exposed to the high temperatures created by supersonic flight, says Krauland.
The company designed XB-1 using "advanced fluid simulation, high-power computing and digital design tools", he adds.
Boom is outfitting XB-1 with a forward-looking vision system consisting of a high-resolution camera, which will help pilots better see outside the aircraft, particularly during landing. Such a system accommodates for the jet's nose-high landing approach, which can obscure views outside the cockpit.
In 2021, as XB-1 flight tests commence, Boom intends to begin Overture wind-tunnel tests, and in 2022 it plans to begin construction of an Overture manufacturing facility. Boom aims to unveil the first Overture in 2025 and to achieve type certification by 2029, executives say.
The planned Overture production site will have capacity to produce five to 10 jets monthly.
"It is very likely we will have to build a second factory and double that up," Scholl says. "We think we are going to make more Overtures than Boeing has made 787s." Boeing has already delivered nearly 1,000 787s, and its production continues.
Boom has said it will price Overture at $200 million, excluding options and interiors.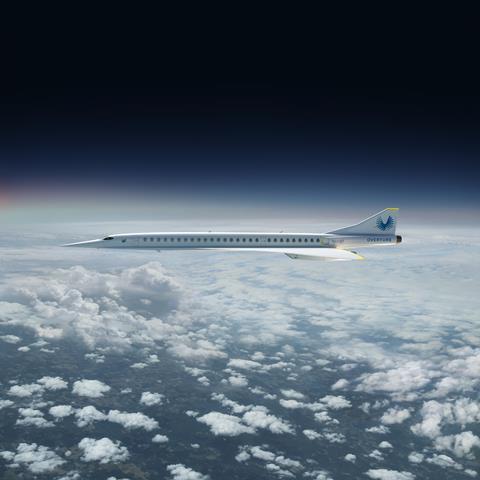 Unlike XB-1, Overture will have modern jet engines without afterburners – something like a "medium-bypass turbofan with the latest technologies", Scholl says.
Boom has not announced which engine Overture will have, but has been working for five years with Rolls-Royce to "define and refine" a potential powerplant, he adds.
Such an engine could make use of "an existing large Trent-based core", R-R has said.
Boom says Overture's fuel efficiency (measured per business-class seat) will be comparable to subsonic airliners.
The company has about 140 employees. Investors include US firms Emerson Collective, Y Combinator Continuity, Caffeinated Capital and SV Angel.
Boom has announced "pre-orders" from Japan Airlines for 20 Overture jets, and from Virgin Group for 10.