Boom Supersonic confirms it has chosen Piedmont Triad International airport in North Carolina as the location of its planned manufacturing site.
The company, which is developing a supersonic jetliner called Overture, revealed the location on 26 January. Boom aims to begin construction there this year, with production to begin in 2024.
The company also stands to secure more than $200 million in state aid for the project.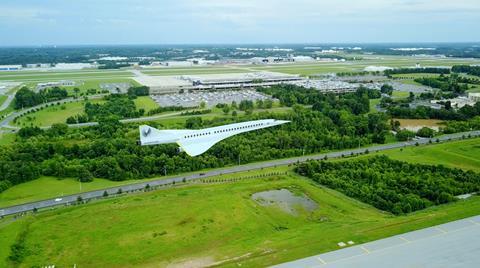 "Boom… has selected the Piedmont Triad International Airport in Greensboro, North Carolina as the site of its first full-scale manufacturing facility," Denver-based Boom says.
The location is not a total surprise. News broke in December 2021 that Boom had been negotiating with state officials to secure funding for a site at Greensboro's Piedmont airport. At the time, North Carolina's governor had just signed an appropriations bill setting aside $106.75 million to help an unnamed aerospace manufacturer set up shop there.
Boom's plan calls for building a 37,200sq m (400,000sq ft) facility on a 26ha (65 acre) plot. Images suggest the location is at the north edge of the airport, just off Runway 23R.
Boom will construct "a state-of-the-art manufacturing facility, including the final assembly line, test facility and customer delivery centre for the Overture supersonic airliner", says Boom.
Overture, still a concept, will carry 65-88 passengers, fly at Mach 1.7 and have 4,250nm (7,871km) of range, according to Boom. The company plans to roll out Overture in 2025. It aims to have Overture airborne in 2026 and carrying passengers in 2029.
In support of the effort, Boom has built a supersonic demonstrator called XB-1. It had planned for XB-1 to complete first flight in 2021, but last year closed without any such news.
The Greensboro area has a "strong regional aviation workforce" and is close enough to the Atlantic Ocean, Boom says. The Federal Aviation Administration prohibits civil supersonic flight over the USA.
Aerospace companies with operations in Greensboro include HAECO Americas, Textron Aviation and Honda Aircraft.
"The Piedmont Triad area is in close proximity to many tier-one aerospace suppliers, benefiting Boom as Overture production ramps," says the company.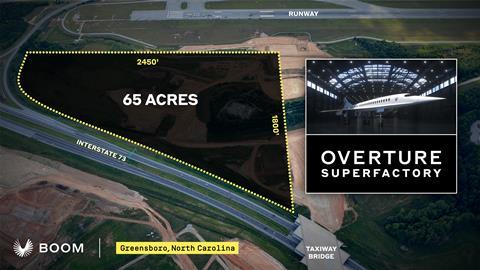 Boom estimates its operations in North Carolina will create more than 1,750 jobs by 2030, and 2,400 jobs by 2032.
The plan has firm backing from North Carolina. That state will pitch in nearly $107 million for "site preparations", including "road improvements and the construction of one or more aircraft hangars", says the office of North Carolina governor Roy Cooper.
North Carolina will also reimburse Boom for up to $87.2 million of its employee tax withholdings over 20 years. That dollar figure assumes Boom will invest $500 million in North Carolina and create 1,761 jobs.
Boom is moving forward after one of its prime competitors, Aerion, failed amid financial trouble in 2021. Before shuttering, Aerion hyped plans to build its own manufacturing site, in Melbourne, Florida.
Boom's early customers include United Airlines, which last year said it agreed to purchase 15 Overture jets.