Brazil's civil aviation agency ANAC has cleared the Boeing 737 Max aircraft to return to revenue service in that country following a 20-month grounding.
ANAC on 25 November says it withdrew the airworthiness directive (AD) that had prohibited the type's operation in Brazil after it agreed with the Federal Aviation Administration's evaluation of technical improvements to the aircraft that address safety issues.
The approval comes one week after the FAA lifted its order grounding the type after two crashes killed 346 people.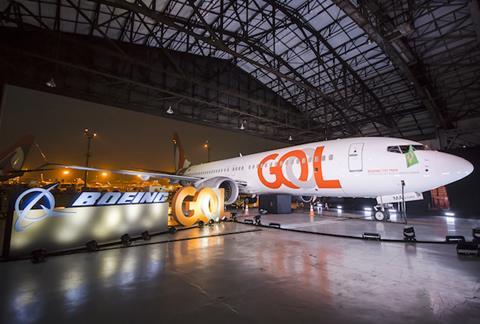 "[ANAC] concluded on Wednesday… to reauthorise the operation of the aircraft model Boeing 737-8 Max in Brazil," the regulatory body writes on its website. "With a process of approximately two years, the validation of the modifications of the project was made by ANAC after the approval of the certifying authority."
Boeing reacted with releif at the news, saying it is dedicated to "ensuring accidents like the ones that led to the decision to suspend operations never happen again".
"Boeing worked closely with the FAA and ANAC to meet their expectations to safely return the 737 Max to commercial service in Brazil," says chief executive David Calhoun.
The airframer adds that in the past 20 months it had conducted "more than 4,400h of testing, including more than 1,350 flights", and that teams of mechanics and engineers are already working to bring the aircraft back into revenue service in the Latin American country.
According to Cirium fleets data, Brazil's Gol Airlines, which operates an all-Boeing 737 fleet, has seven of the type in storage with 95 more on order with the Chicago-based airframer.
The airline's executives said during its third-quarter earnings call earlier this month that they expect to return the Max to its schedule "as soon as the end of December 2020".
Brazil is just one of several jurisdictions that must approve the return of the jet to service.
Earlier this week, Europe's air safety regulator, EASA, said it expects to publish a final airworthiness directive on modification of the 737 Max in mid-January, which will mark the formal revocation of the grounding order imposed on the twinjet in that region. Canada has also not yet approved the type's return to service.