In 2022, the United States Coast Guard (USCG) requested public comment about how a new breed of wing-in-ground-effect craft (WIGs) might benefit the offshore energy industry.
The agency asked if such craft, which share attributes with both aircraft and maritime vessels, should also be subject to Federal Aviation Administration (FAA) certification and operating rules.
In the responses that followed, it became very clear that WIG developers – including high-profile Regent Craft – think the FAA should largely stay out of the conversation. Regent is seeking confirmation that the FAA will not take a leading role in the approval process.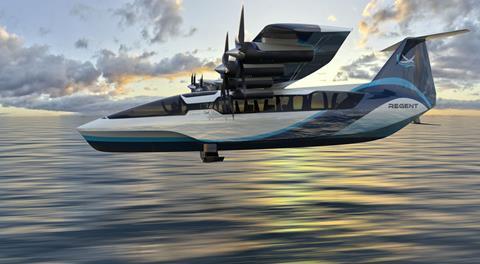 Such companies insist their designs are marine craft under law and industry standards, and therefore subject to oversight by the USCG. Being subject to FAA regulations would pose insurmountable economic problems, killing an emerging sector, some developers argue.
Documents reviewed by FlightGlobal also reveal uncertainty about how such fast-moving craft could operate safely in an environment otherwise occupied by relatively slow boats.
Now, the USCG and FAA are trying to figure out the regulatory questions, with potentially far-reaching implications for Regent and other developers.
"The ability to be regulated exclusively in the maritime environment is the overriding economic advantage that makes a modern WIG viable at all – this likely reduces the cost of development to get to market by 10 [times] compared to an equivalent aircraft," a California WIG developer called Seaflight Technologies told the USCG in 2022.
WIGs are floating, winged vehicles that take off from the water and fly close to the surface, staying in ground effect and consequently benefiting from increased lift and reduced aerodynamic drag.
Rhode Island-based Regent is developing an all-electric 12-passenger WIG called Viceroy, with a 2025 in-service goal. Viceroy is to be a "Type A" WIG under marine standards, meaning it will not fly above the altitude at which ground effect exists. Ground-effect flight is typically within one wingspan of the surface.
"The US Coast Guard has statutory authority to regulate WIGs under its authority to regulate small passenger vessels, including design approval, inspection, construction and crewing," Regent told the marine regulator in 2022. "For Type A WIGs, no regulations in Title 14 of the Code of Federal Regulations apply."
Title 14 regulations lay out the FAA's regulatory remit.
"We have very high confidence… following the rules that have been prescribed, that we will remain under maritime regulation," Regent chief executive Billy Thalheimer tells FlightGlobal. "We're expecting to continue down that route."
Regent has said Viceroy is not an aircraft and calls the design a "seaglider". But the FAA does call it an "aircraft".
"The FAA and United States Coast Guard share regulatory responsibility for these type of aircraft, just as they do with seaplanes. The agencies are working together to address certification needs of this re-emerging industry," the FAA tells FlightGlobal. Despite repeated requests, the FAA declines to elaborate.
Asked to comment, the USCG says: "Any WIG craft carrying more than one passenger aboard is classified as a passenger vessel, which will require a certificate of inspection issued by the local Coast Guard office."
The maritime regulator's website says it is developing WIG safety standards with FAA assistance.
"The most important thing for us is regulatory certainty," Thalheimer adds. "We want to make sure that it's clear that we have a single set of regulations that apply to our vessel."
WIGs have been around for decades. The Soviet Union developed several military transport models between the 1960s and 1990s, including the 500t Lun (dubbed the "Caspian Sea Monster" by a US analyst), and the 120t A-90 Orlyonok. Boeing pitched its "Pelican" concept in the early 2000s and the US military is now developing a military craft capable of flying in ground effect called Liberty Lifter.
Commercial companies have also developed WIGs, but with little success. Challenges have included the tricky integration with slow-moving boats and operating restrictions imposed by ocean conditions, according to studies.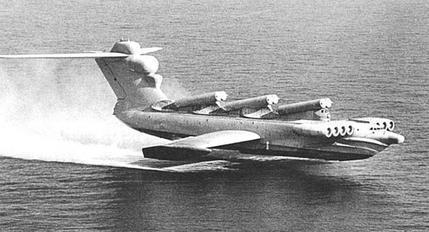 But those seeking to revive the sector say technological improvements have opened new opportunities for WIGs, and that the craft can help decarbonise aviation.
"Seagliders will combine modern technology, unique design characteristics and underutilised infrastructure into an environmentally and economically compelling part of [transportation] networks," a Regent paper says. "Application of current-day batteries, power electronics, motors and structural design techniques enable flights up to 180 miles", but Regent adds that battery technology improvements within a decade could allow for flights up to 500 miles.
Regent came on to the scene in 2021, launched by Thalheimer and chief technology officer Mike Klinker – both former employees at Boeing subsidiary Aurora Flight Sciences. Viceroy will have eight wing-mounted 161hp (120kW) motors, retractable hydrofoils, carry two crew and operate from major harbours, the company says.
It will be able to motor slowly in heavy-traffic areas, and will lift up, supported on hydrofoils, at speeds exceeding about 17kt (31km/h). Accelerating further, Viceroy will take off, flying at speeds up to 160kt while remaining 10-50ft above the waves, Regent says. The 17.5m (57.5ft)-long craft will have a 19.8m wingspan, 1,590kg (3,500lb) of payload capacity in a cargo variant, and a cockpit resembling an aircraft's.
The craft is designed to operate regional near-coastal routes, such as from New York to Nantucket, from Florida to The Bahamas, between Hawaii's islands and within the Mediterranean.
"Operating a seaglider will be more akin to driving a boat than piloting an aircraft. Roll, pitch, altitude and the transitions between the hull-borne, foil-borne and wing-borne modes will all be managed by the digital control and flight-envelope protection system," the company says.
Regent is making progress, having flown a one-quarter-scale demonstrator in 2022. It aims to fly a full-scale prototype in 2024 and to manufacture the craft in Rhode Island.
The company says it has been building its "order book to more than 500 seagliders", worth more than $8 billion. Customers include New Zealand's Ocean Flyer, Brittany Ferries in Europe and US carriers Mesa Airlines, Mokulele Airlines and Southern Airways Express. Regent has landed investments exceeding $50 million and closed "strategic investment" partnerships with Hawaiian Airlines, Japan Airlines and Lockheed Martin, which is eyeing a military variant, it has said.
Regent's advisers include former Boeing chief executive Dennis Muilenburg and airline entrepreneur David Neeleman. It eventually intends to develop a 100-passenger model called Monarch.
First flight of Regent's seaglider demonstrator
WIG developers see good reason why the FAA should defer to the USCG: ICAO and the International Maritime Organization (IMO) have agreed Type A WIGs fall under maritime operations, and the IMO has published WIG design, construction and operating guidelines.
Also, US law defines such WIGs as passenger vessels subject to USCG oversight.
"Precedence as well as practical reasons" support the USCG taking the lead, says Regent vice-president of certification Ted Lester. "There's potentially a role for the FAA to play, in terms of expertise… consulting, essentially, for the Coast Guard".
"It's important that there be only one government regulator, for… the vehicle, the operations and the crews," he adds.
In 2021, the US Congress asked the USCG to study how WIGs might serve the nation's offshore energy infrastructure, prompting the USCG's 2022 request for public input. In that request, the USCG noted WIGs fall under its authority but that other agencies like the FAA might also have authority.
"The debate has been going on for several decades," Seaflight founder and chief executive Graham Doig tells FlightGlobal. "But most countries have rarely had to translate any of that into local practice, for obvious reasons – there are only a few nations in the world with active WIG operations."
Regent says it already has confirmation the USCG will regulate Viceroy. "We confirm that the USCG is the federal agency for certificating passenger WIG craft as defined in these provisions," USCG design and engineering standards chief Daniel Cost told Regent in a September 2021 letter. "The USCG will also be the agency to authorise operations on waterways."
Regent has asked the FAA to confirm its intentions.
"While we already have confirmation from the US Coast Guard of their regulatory authority, we are looking for confirmation from the FAA that as a Type A WIG, Regent seagliders are not considered to be aircraft and that craft and crew certification fall outside the scope of FAA regulations," Regent said in a February 2022 letter to FAA officials.
The FAA's decision is important because it and the USCG regulate industry differently.
The marine regulator issues "certificates of inspection" to specific vessels, confirming they are structurally sound and properly maintained and equipped for intended operations. Applicants must demonstrate a vessel meets technical standards, and submit construction and stability details. Certificates of inspection expire every five years.
Because the USCG lacks WIG-specific regulations, it is requiring Regent to submit a "Design Basis Agreement" (DBA). That document is to describe design and fabrication details and demonstrate Viceroy meets equivalent safety standards, according to the USCG's 2022 letter.
The USCG's 2021 letter to Regent said it expected the company to submit the document in mid-2023.
"We expect to submit the DBA in Q4 2023 after a series of workshops with the USCG," Regent tells FlightGlobal.
As for training, Regent suggests seaglider captains complete type-specific WIG training based on IMO guidelines, and hold USCG credentials. It recommends the USCG change regulations so flight time can count toward sea-time requirements.
By contrast, the FAA issues type certificates, which are specific to aircraft models and confirm adherence to FAA regulations. The process is widely viewed as incredibly exacting, lengthy and expensive. The FAA also approves individual aircraft with airworthiness certificates.
"Any effort to reclassify [WIGs] domestically as aircraft, or [to] apply aviation regulations to these marine vessels, [would] be counter to the international regulatory framework," Pacific Seaflight, an Alaska company pitching a WIG, told the USCG. "It would negate the primary economic advantage of commercial [WIG] operations, creating an insurmountable economic barrier and initiating the final end to this promising technical solution."
Seaflight Technologies added: "If [FAA] requirements were to be applied, the main incentive to develop domestic WIG capabilities for any application would be removed".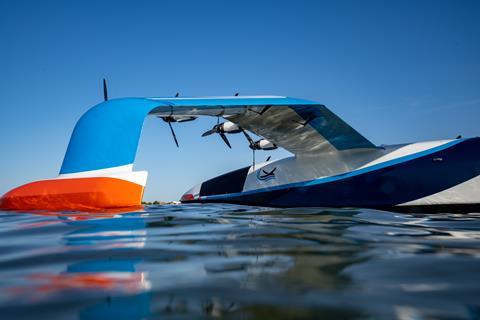 There is also the question of resources. After taking intense criticism for approving the Boeing 737 Max, the FAA has stepped up its scrutiny of new aircraft certification programmes, leading to a slower approval process. The certification office has been described as needing more technical experts and is stretched by demands to oversee the fast-growing electric air taxi segment.
"In comparison to the aviation authorities, the maritime regulators have increased bandwidth to support new development programmes and grant increased flexibility for testing of low-altitude, over-water-only new vehicles," Regent said a 2021 report.
The USCG's "risk-based" process is every bit as safe as the FAA's, and the USCG has experience approving complex designs, Regent's Lester says.
IS IT AN AIRCRAFT?
The FAA, of course, regulates aircraft, which US law defines as "any contrivance invented, used or designed to navigate, or fly in, the air". That definition might seem clear but could be open to some FAA interpretation.
Lester says that in the last 10 to 15 years the FAA has taken a rather expansive view of what constitutes an "aircraft" as it sought to secure authority over the fast-growing drone sector.
"The FAA has taken a very broad definition of the word aircraft to make sure it covers… drones [operating] one inch above the grass in your backyard," he says. "That's why there's… potentially a question" about the FAA's involvement in Viceroy.
But the FAA has been more flexible in the past. Regent executives point to a 1989 letter in which a former FAA assistant chief counsel concluded that a ground-effect craft was not an "aircraft", citing the design's inability to sustain "free flight" and its lack of interference with air commerce.
Thalheimer says he fully expects the FAA will ultimately defer to the USCG, citing the US law, the USCG's letter and the ICAO-IMO agreement.
But if "contradictory to all indications" the agency decides otherwise, Thalheimer says Regent has a plan: selling to customers outside the USA.
"If all of those ifs happen, and… we deem it difficult or too expensive… to go down that aviation certification process in the US, we still have the rest of the world," he says. "And that's where many of our customers are."
Thalheimer sees opportunities for seagliders to replace traditional ferries operating in the English Channel, Mediterranean and Aegean seas and throughout the Asia-Pacific region. Regent says European aviation regulator EASA has confirmed the design will not fall under its "basic regulation".
The USCG's 2022 letter to Regent also highlighted safety concerns related to Viceroy's speed – including how Regent will ensure "navigation safety, hazard avoidance, voyage planning, weather avoidance, emergency procedures and marine mammal protection".
Boats must comply with the USCG's 'Rules of the Road', which require captains to maintain "safe speed" based on conditions – and be able to stop if necessary. They also specify which vessels have priority. For instance, power boats must keep clear of sail boats. WIGs sit at the very end of the pecking order; when taking off, landing or flying they must yield to everything else, from dinghies to cruise ships.
"How, exactly, a WIG craft will both follow the applicable vessel collision regulations… and interact safely with the variety of vessels… requires substantial discussion, analysis and understanding," offshore energy company Orsted told the USCG in a 2022 comment letter.
It added that obstacles like fishing buoys can be difficult to detect by sight or radar, and commercial and recreational boats fishing boats frequent regions where seagliders are envisioned as operating.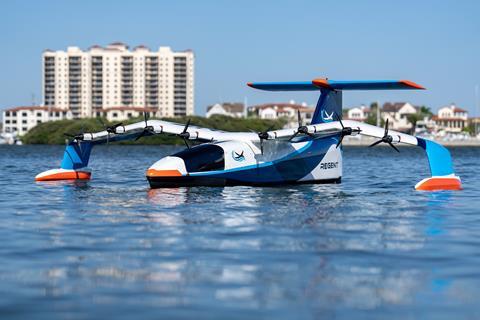 The Offshore Marine Service Association, which represents boat operators, says WIGs may require new regulations.
"Because WIG craft have the potential to operate both above and upon the water's surface, comprehensive regulations regarding both modes of travel must be developed. Such standards should address the full range of possible weather conditions, payloads and destinations," it told the USCG.
Regent insists it can meet such concerns.
"Marine traffic, obstacles and hazards such as wildlife or floating debris will be identified and avoided using a combination of radar, lidar and electro-optical (vision-based) sensor systems," its report says. "In hazardous operating environments, seagliders may return to foil-borne or hull-borne operating modes at any point."
Thalheimer says Viceroy will initially operate under visual conditions and only travel at high speed when in open water. The company has tested the concept using virtual traffic simulations and in practice using a low-flying helicopter, he adds.
"Once you leave the harbour, now there is immense space," he says. "Even in places like the English Channel, which is one of the most trafficked waterways in the world, vessels are still separated by miles out there."
"The distances are so large that you actually have plenty of time to detect and avoid traffic," he adds.