Boeing's chief executive is again calling on the US government to normalise trade relations with China, a country that accounts for a vast portion of Boeing's historic and potential aircraft sales.
"We've got to restore our deliveries in China," Calhoun says on 3 June. "We need the two governments to want to restore some of the trade lines that have been in place for 50 years… and [have] served both markets, both economies very well."
Calhoun, who made his comments during an investor conference hosted by AllianceBernstein, says he has communicated about the issue with the administration of president Joe Biden.
"They understand the issue and the opportunity," Calhoun says. He made a similar appeal in April.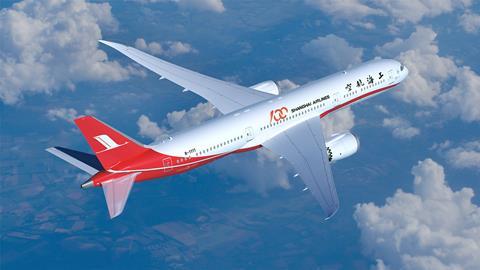 US-China trade relations, which are linked to broader US concerns about China acquiring US industrial intellectual property, soured several years ago, with both countries imposing import tariffs.
Boeing's 737 Max was caught in the mix, with China still holding out from lifting the type's grounding despite other countries' regulators green-lighting the jet in the last six months.
The Office of the United States Trade Representative did not immediately respond to a request for comment.
But last week, US trade representative Katherine Tai met virtually with China vice premier Lui He. Tai discussed the "guiding principles" during what her office called a "candid exchange". Calhoun has stressed the critical importance of China to Boeing and the broader aerospace industry, saying in April that China represents one-third of the sector's 10-year potential growth.
Between 2010 and 2015, Boeing delivered nearly 600 aircraft to Chinese customers, accounting for about 15% of its total deliveries during the period, the airframer's data shows.