Canada's transport minister has signalled his country will "soon" follow the USA in certificating Boeing's 737 Max.
But Canada's approval will include different requirements than the Federal Aviation Administration's green light.
"Transport Canada safety experts continue their independent validation process to determine whether to approve the proposed changes to the aircraft," says Canadian transport minister Marc Garneau on 18 November. "We expect this process to conclude very soon."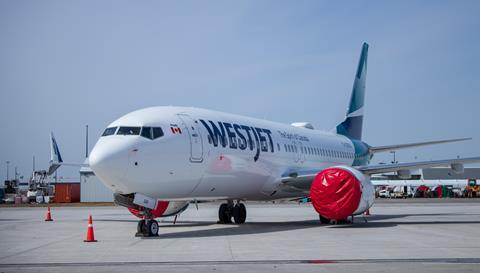 His comment came on the day the FAA lifted its March 2019 order that had grounded the Max.
However, Garneau says differences will exist "between what the FAA has approved today and what Canada will require for its operators".
"These differences will include additional procedures on the flight deck and pre-flight, as well as differences in training," he says.
Garneau's statement provides no further details about potential differences, and 737 Max remain barred from Canadian airspace until Canadian regulators clear the jet.
Canadian airlines have 41 Boeing 737 Max in storage, including 24 with Air Canada, four with Sunwing Airlines and 13 with WestJet, according to Cirium fleets data.
The FAA's 18 November approval requires significant changes to the Max's flight control system and the related Maneuvering Characteristics Augmentation System (MCAS).
MCAS must now receive data from two angle-of-attack (AoA) sensors, not one, and its effect on the Max's horizontal stabiliser will be limited so that pilots can always control the jet with their control columns.
The FAA is also mandating that pilots receive MCAS-specific training.