Boeing should have sufficient liquidity to keep operating for eight to 10 months, possibly longer, according to analysts, despite speculation about its financial condition based on recent calls for $60 billion in government aid for the US aerospace industry.
That estimate, based on Boeing having around $30 billion in cash reserves and available liquidity, reflects estimates that Boeing will burn $3-4 billion per month.
Boeing could possibly last much longer on its current reserves if it essentially shutters its commercial aircraft operation, although the result would be "economic carnage" for the aerospace industry, which would affect the broader economy, says Teal Group aerospace analyst Richard Aboulafia.
The airframer's monthly outlay could vary significantly based on the ultimate duration of a temporary production shutdown that took effect this week, and also on when it restarts final assembly of the 737 Max. Other variables include the duration of the coronavirus downturn, Boeing's response to the crisis, the state of the airline industry and the Max certification and return to service dates.
Reports have surfaced in recent days that Boeing might restart Max production as soon as May, but the company does not confirm that timeline.
Though analysts describe Boeing's financial situation as concerning, they note the strength of the company's military business and suspect Boeing may secure government aid, which increasingly appears likely.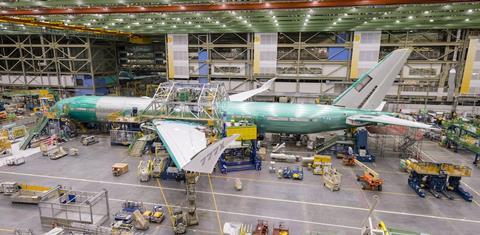 Boeing has asked for $60 billion in government support for the aerospace industry as part of a coronavirus relief package currently working its way through the US Congress.
On 24 March, Boeing chief executive David Calhoun told Fox Business his company remains financially sound even without government dollars. His comments came as Boeing prepared to shut its Seattle-area production sites for two weeks due to the coronavirus outbreak.
Calhoun says Boeing had $15 billion in cash. "Our enterprise is not threatened" and the company "will get through this" even without government aid, he says.
"The credit markets, at the moment, are closed to us," Calhoun adds.
Boeing ended 2019 with about $10 billion in cash and other short-term investments, and has since drawn down a $13.8 billion loan. It also has about $10 billion in available revolving credit, and will save $4 billion, or possibly slightly more, by its recent suspension of dividend payments, says Ronald Epstein, managing director of aerospace and defence at Bank of America Merrill Lynch.
That brings liquidity to around $38 billion.
But Epstein subtracts about $6 billion in short-term debt that must be repaid, and notes Boeing could free another $4.2 billion should it chose to shelve a planned purchase this year of Embraer's commercial aircraft division.
Those adjustments bring Boeing's actual available liquidity to the $28-32 billion range, the swing reflecting the Embraer deal.
Boeing has not publicly paused the Embraer acquisition, but there are suggestions that it might.
"There is potential for the Embraer [joint venture] to be pushed out as Boeing wants to prioritise the preservation of cash in the near term while it moves through the coronavirus disruption and 737 Max issues," says a 19 March research report from Jefferies.
Embraer said on 26 March that it did not expect European anti-trust clearance for the deal until after June 2020, potentially giving Boeing some breathing room.
Epstein estimates Boeing burns cash at about $2-3 billion monthly, with the figure likely closer to the $3 billion mark. At that rate, he says, Boeing could consume its current liquidity within 10 months, perhaps less.
Epstein is working under the expectation that the crisis will abate in three to four months. "Our base assumption is you get through the virus situation in a reasonable amount of time," he says.
The Jefferies report puts Boeing's liquidity at a similar level and pegs the commercial division's cash burn at up to $4.3 billion monthly.
"While… liquidity remains fine, each month of airlines deferring aircraft results in a use of ~$4.3 billion," says the report.
Jefferies' estimate reflects resumed commercial aircraft production, including Max production at a 32-per-month rate. It also assumes Boeing Commercial Airplanes has "no cash inflow" during the month, noting "it is unlikely airlines take aircraft while capacity is down and majority of demand has dried up".
"Liquidity is clearly necessary to support [Boeing] along with suppliers to continue manufacturing, and support any potential production disruptions, while airlines… navigate significantly lower demand," Jefferies says. "Issues around airline payments could increase the needed short-term liquidity."
Teal Group's Aboulafia estimates that when commercial production – including that of the 737 Max – is up and running, Boeing Commercial Airplane's monthly cash burn would be in the region of $3-4 billion.
He suspects the world's airlines will seek to defer new aircraft deliveries for the foreseeable future. "Typically, when you have a downturn like this, you get a lot of deferrals. There is every reason in the world to defer."
Aboulafia notes Boeing's defence division, which receives guaranteed profits from government customers, could help slow the cash outflow. But he says the broader US defence industry largely cannot compensate for the slowdown of the massive commercial aerospace sector, which is, or soon will, affect Boeing on down to its thousands of suppliers.
"It just can't compensate on the defence side all that much," Aboulafia says.
Boeing Defense, Space & Security generated a $2.6 billion operating profit in 2019 on revenue of about $26 billion – one-third of the entire company's turnover, an increase on the one-quarter figure of a year earlier, before the Max crisis, securities filings show. Analysts also estimate defence work accounts for nearly half of Boeing Global Services' revenue, which was $18 billion last year, yielding an operating profit of $2.7 billion.
"The defence business is rock solid," Calhoun tells Fox Business.
Aboulafia notes Boeing could conceivably reduce spending to only $1-2 billion monthly by essentially shuttering commercial factories and laying off staff.
Such a move, which Calhoun has suggested is not forthcoming, would be an "economic catastrophe" but would significantly ease Boeing's cash crunch, Aboulafia says.
"You can last quite a long time on that," he says. "There is not a problem of liquidity at that level."
Boeing declines to comment on its cash-flow position.
On 24 February, Fitch Ratings downgraded its long-term rating for Boeing, citing uncertainty about the coronavirus downturn and its impact on the company's operations, demand for new aircraft and the state of the broader US economy.
"Boeing could still need access to additional capital to bridge liquidity until the economy recovers or Max deliveries resume," Fitch says. "Boeing and its suppliers would require government support in the scenario of an extended pandemic combined with significant disruption of the public capital markets."
BOEING APPEALS FOR AID
Last week Boeing said it was seeking some $60 billion in government aid for itself, its some 17,000 suppliers and the broader aerospace industry. Boeing's US airline customers are also seeking more than $58 billion.
Boeing faced a choice: "Shut off everything or ask for government intervention", says Aboulafia, who calls federal aid "a way of averting an economic disaster".
The US Senate and House of Representatives have reportedly agreed on a package of aid to businesses affected by the coronavirus downturn. Details should be available shortly.
Speaking to Fox Business, Calhoun says Boeing must try to avoid significantly trimming staff amid the coronavirus crisis, as doing so would hamper its rebound once the crisis abates. He notes 70% of Boeing's spending goes to suppliers.
"I have to keep my workforce in place and we have got to be ready when recovery comes," he says.
Calhoun adds that the 737 Max remains on track for mid-year certification.
"We are continuing to assess our progress towards completing milestones to return the 737 Max to service, and will make determinations about resuming production and deliveries accordingly," the company says.
Challenges aside, analysts in recent days expressed optimism in Boeing's long-term viability.
"We don't see structural barriers to the company generating excess cash once the COVID-19 crisis passes and the 737 Max receives [certification]," says Morningstar in a 22 March report.
Morningstar does not yet assume "Boeing will need to issue more equity to survive", citing "substantial cash on hand".