While a strong aircraft order environment means Boeing Commercial Airplanes chief Stan Deal arrives at Le Bourget with a bolstered backlog, supply chain, delivery and certification challenges remain time-consuming issues for the manufacturer.
"From my view, it is the tale of two stories," Deal tells FlightGlobal during an interview in early June ahead of this week's Paris air show.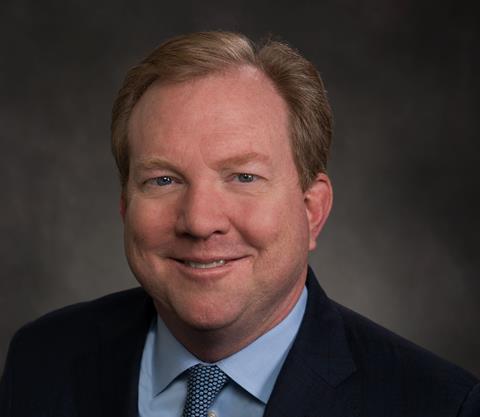 "The positive surprise is how far the industry has rebounded, and that is represented by the amount of order decisions that have been made and order decisions that are in the works. It seem like every airline at once has woken up to the need to plan for a rebound in future, in terms of passenger growth – and the orders aren't small, they are big orders."
Boeing has won its share of recent large orders and commitments from the likes of United Airlines, Saudia and its new sister carrier Riyadh Air, Air India and Ryanair. More big orders may be in the works, including an expected 600-aircraft-strong deal from Turkish Airlines and a likely narrowbody aircraft order from Riyadh Air.
While Deal acknowledges the order rush might partly be fuelling itself – prompting some airlines to jump in with orders so as to secure remaining delivery slots – he also sees solid logic behind the strong order activity.
"Most of these airlines are trying to plan long-term demand. So, it's not 300 airplanes in a period of two years, it's 300 airplanes over a five-to-seven-year horizon," he says. "That's rational long-term fleet planning – being able to say, 'I have to plan my growth and secure capacity over a long horizon'. I think that bodes that there is confidence in the decision-makers that this isn't a momentary recovery with another dip yet to come. I think it's more of an indication of… long-term steady demand."
Demand may be healthy, but the supply chain has been struggling, with Deal conceding production has been "much harder to ramp up" than in any period prior.
"That shows the profound effect Covid had on the extended supply chain, not only for manufacturing… You see it at airports. You see it around the globe. The human capital toll of Covid was pretty devastating."
"Now [that] we are another year into it, a lot of our supply base has been able to get staffing, and I'd say the main challenge is how to get that staffing fully competent and trained so [that] net productivity can get back on the curve that it was once on. And it is not a big CapEx issue. It's more of, how do you get through the human-learning curve, a few material constraints, things of that nature? Eventually we will get through that, but it has taken longer than we anticipated.
"Unconstrained demand [with] constrained supply will still be the story for a while, I believe," Deal adds.
SUPPLY CHAIN IMPROVEMENTS
He highlights actions Boeing has recently taken to support suppliers, noting the company has placed its own people and material resources with partner companies and helped offload capacity from struggling suppliers. "Those are [a] few of the things we've been working cooperatively with… every supplier in the industry – from the big to the small. And the big are not immune from problems."
Fresh challenges emerged in mid-April when Boeing revealed it had stopped some 737 deliveries due to a fuselage issue involving fittings supplied by Spirit AeroSystems. The problem affects 737 Max 8s and 737NG-based P-8 military surveillance jets, including those already in service. It prompted fresh delivery delays at a time Airbus and Boeing were already struggling to meet delivery commitments.
"We had to methodically rework each airplane that has the issue, at both Spirit's production [site] and ours, and we are working through that now," says Deal. "The initial plans we laid out and communicated with the airlines [are] actually going as predicted, if not slightly better. That's good news."
It means Boeing can turn attention to increasing production. It was producing 52 737s monthly prior to the pandemic and has recently been aiming to maintain a 31-monthly rate, with rate steps in view. "We look ahead on each rate increase and [ask], where is each supplier in that readiness?" says Deal. "Most of the lights are green… There's a few yellows out there – I don't think those will get in the way.
"Now we are looking at the steps beyond that, as we think about 2024 and 2025 – that's where a lot of our focus is," he adds.
On the widebody front, Boeing recently stepped up Dreamliner production to four aircraft monthly. "Then we will look at another rate break as we approach the end of the year, and I think the supply chain is largely healthy," says Deal. "The unique thing about the 787 is [that many of our] partners were the major heavy structure partners… The Japanese were in a good position [with] labour because they protected their labour, so we don't have as big as a learning curve there."
MAX BACK IN SERVICE
Given the 737 Max's troubled history, Deal is gratified by the type's performance since its return to service two and a half years ago, noting the jets are achieving 99.5% reliability.
"We have delivered over 777 Max's since the un-grounding. Ninety-nine-five on reliability is incredible, but that is what we sell to the airline," he says.
"There was a period [when], getting the Max ungrounded, a lot of people were saying, 'Is the Max going to be okay? Does Boeing need to reinvest?' We never thought we had to reinvest. I think there were third parties that were being critical. But when you are out of the market for two years, focused on getting a product restored, I understand how that creeps into the thinking.
"Probably most people see now that the product is back in the market, and its orders are flowing through, and the performance is there… It underpinned our belief in the product strategy. We are seeing a lot of volume around the -8, [and] you are seeing the -10, over the past two years, really pick up… That's nice to see because it is a great family."
But uncertainty remains about certification of both the 737 Max 7 and Max 10, with both types subject to heightened scrutiny adopted by the Federal Aviation Administration following two Max crashes. Boeing last November estimated the FAA would clear the Max 7 by early this year and the Max 10 by early 2024.
"We are in the midst of certifying them under a new set of laws that were implemented, and that takes time," Deal says. While he does not see any "major technical hurdles", Deal points to the time-consuming nature of complying with new rules. "That's why we… asked for more time on the [certification]," he says. "We got it last year and we are working with the regulator on that."
After certificating the Max 7 and Max 10, Boeing aims to complete certification of its in-development 777-9, followed by its 777-8 Freighter and then an enhanced-gross-weight 787 variant.
"There is no short cut," Deal says. "We are pretty consistent on the timeline. We hope to get the -7 certified this year and fielded, and then early next year [to] get the -10, and then we remain committed to the 777-9 in 2025. So, no change in time horizon. Continued daily progress. Hard work to do."
NEXT STEP-CHANGE FOR BOEING?
Deal cites strong demand across Boeing's wider product family.
"I don't sense any real weakness relative to Airbus," he says. "That's why you hear us continue to reiterate our current focus to continue [to] enjoy the benefits of the product family while we invest in future capability that would some day bring a double-digit [fuel-efficiency] advantage to the market. But today, every one of our family members… has a demonstrable advantage over the ageing fleet."
Prior to the upheaval of recent years, Boeing had been studying designs that included a 757 replacement – known in the industry as the "New Mid-market Airplane". However, the manufacturer has made clear it does not expect to a develop a new narrowbody aircraft any time soon. Analysts generally expect Airbus and Boeing will each bring new narrowbodies to market in the 2030s,
"We have focused more on… the underlying technologies we have got to invest in to formulate any new product when it comes to market," says Deal.
He cites advanced composite materials, which can "help unlock the long, thin wing", Boeing's development with NASA of a truss-braced-wing demonstrator called X-66A, and its work to advance autonomous technology via subsidiary Wisk.
"We think there is a great amount of learning in the large transport [aircraft space]… I'm not signalling we are going to have an autonomous large transport, but you will understand… how far we want to push autonomy into the next large transport," says Deal.
Such efforts align with the airline industry's sustainability push, including a goal to achieve net-zero carbon emissions by 2050.
"The first thing most airlines are thinking about is, how do I make a big step function to my fleet today? And the easy answer to that is, renew [the fleet]… Because you'll get 20% improvement typically," Deal says.
"Step two is discussions about, how do we work together on sustainable aviation fuel? Because that is a huge step function in decarbonising the industry," he says. "We've said [that] every one of our airplanes, by 2030, we'll certify to be 100% sustainable-aviation-fuel powered… That is a lot of work – its more about how… we certify the variability of SAF, because SAF has many origins of feedstock."
"The third wave is talking about the capabilities we have been investing in that may create a new future beyond the current horizon of aircraft," Deal adds, citing investment in and development of aircraft powered by electric and hydrogen propulsion systems.
"We think SAF is going to be the next big wave. Electric will probably cover short-range [aircraft]. Hydrogen… probably [requires] a lot of technological unlocking to be mature even before that 2050 timeframe."