China Airlines has firmed an order for eight Boeing 787-9s, the US airframer said at the Paris air show on 20 June.
The Taiwanese carrier announced in May that it was exercising options for the eight widebodies, which were booked by Boeing for an unidentified customer. The deal follows the carrier's first order for 16 of the type, announced last year.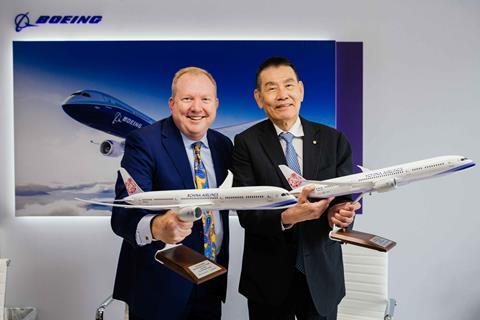 "With this order, the carrier will introduce 24 super-efficient 787s over the next several years, strengthening the airline's existing global network," Boeing says. "The 787 enables China Airlines to reduce fuel use and emissions by 20%, which will support the airline to meet its sustainability goals."
China Airlines is also the newest 787-10 customer as it converts six of its 787-9 orderss to the 787-10, the airframer adds, in order "to add flexibility and capacity on its regional network as passenger demand continues to rise above pre-pandemic levels".
Boeing has received more than 250 orders and commitments for the 787 family in the past six months.
Earlier this month Boeing said it had 4,634 jets in its backlog at the end of May – up 67 units from the end of April – comprising 3,655 737s, 116 767s, 324 777s and 539 787s.