Economic vulnerability in China, a potential trade war, as well as severe effects from the new coronavirus are three of the biggest risks the global aviation and aerospace industry faces at the start of the new decade.
China's progressively higher debt levels in the past ten years, slower growth, lower foreign direct investment and other tenuous economic indicators all point to a deceleration of the world's second biggest economy. Major aerospace companies and their suppliers in the US and Europe are feeling the effects, but these could be even more damaging in the long term, industry experts tell participants at the Pacific Northwest Aerospace Alliance meeting in Lynnwood, Washington on 5 February.
"[China's] government has been cheerfully throwing money at the problem and I think they might have a debt issue at this point," says Richard Aboulafia, vice president of analysis at Teal Group. "Their GDP numbers probably aren't as good as they say they are. This is a broader China issue that's affecting our market beyond the Max."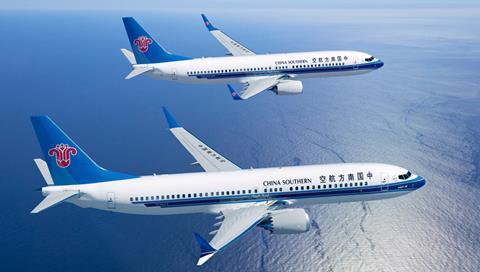 Gross domestic product growth is at its weakest in about 30 years. In 2019, GDP growth was 6.1%, and some analysts expect to see first quarter growth of just 4%.
"Our expectation is, they're going to take a little break for two years," Aboulafia says. "I wouldn't be expecting any great deals from China in general for the next basically year and a half to two years."
China is one of the biggest markets for the 737 Max programme and last year's delivery freeze tore a hole in the single-aisle market including in the fleets of Air China, China Southern Airlines and Hainan Airlines. Cirum's Fleets Analyzer shows that Chinese carriers have 97 737 Max aircraft in storage, with a further 178 on order. The Civil Aviation Administration of China was also the first country to ground the type in March after the second of two fatal crashes.
The aircraft's global grounding is now in its 11th month, with the expectation that it will not be recertificated until well into 2020, and won't likely return to revenue service until the third quarter.
Late in January, Boeing also said it would reduce 787 Dreamliner production to ten units per month (from 14) from early 2021, driven largely by a dearth of orders from China as well as a reduced near-term requirement for wide-body replacements.
The coronavirus, which originated in mainland China, has now sickened almost 30,000 and killed 563 as of Wednesday. Entire cities and large swaths of the country have been quarantinned and many foreign carriers have cancelled all flights to Chinese destinations, bringing the country to a near-standstill.
TRADE TURBULENCE
Adding to the current short-term economic pain, a potential China-US trade war threatens to become hotter should Donald Trump be elected to a second term as US President. A protracted and expensive commercial conflict will have detrimental long-term effects on the US aerospace ecosystem, industry experts say.
"If Trump is relected I would expect the Chinese trade war to go full game on," says Ron Epstein, managing director for aerospace and defence, Global Research at Bank of America Securities.
China and the US in January inked the first phase of a new trade deal, but the trade turbulence between the two countries is far from over. The pact, effective immediately, calls for China to purchase a total of $200 billion in US goods above the 2017 baseline, and includes $77.7 million in manufactured goods, but it is short on details.
"What's going to come out of this trade crisis is the seed of a strong competitor from about 2030 or 2035, and the seed of a country that is going to leverage its level of influence for its aerospace industry," says Michel Merluzeau, director of market analysis for AirInsight Research. "That is concerning to me because we are decoupling a system that has worked very well over the last 50 years. So those unintended consequences will have an effect on the competitiveness of Airbus and Boeing."
In essence, China is in the process of building up its own aerospace ecosystem with reliable suppliers and high standards as a direct competitor to the western world. US export control regulations have prevented aerospace and aviation companies from setting up manufacturing operations in China, leaving technology development and construction to home-grown entrepreneurs.
"You see two spheres of technology and two areas of economic development," says Epstein. "You can't have a Cold War with China the same way you did with the Soviet Union because they are a major trading partner and that's not lost on anybody. So you have a major trading partner who is also a security threat." As a result, the trade war of 2019 will be followed by a tech war between China and the United States, he adds. "There is no way around that."