Embraer has signed up Ruili Airlines as the first Chinese carrier in its Energia Advisory Group, as it seeks to develop sustainable aircraft for the future.
The pact will see Kunming-based Ruili and Embraer working to define performance and design requirements related to Embraer's proposed Energia Aircraft, namely a pair of 19-30 seat aircraft that are envisaged as using hybrid electric and hydrogen electric propulsion technologies, says Embraer.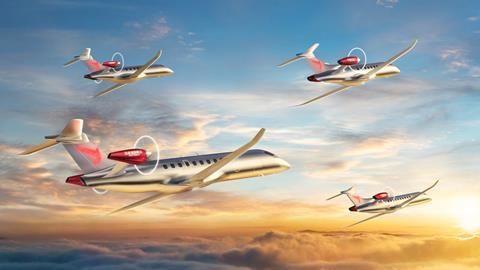 "The partnership between Embraer and Ruili Airlines is a significant step for the Energia project," says Arjan Meijer, president and chief executive of Embraer Commercial Aviation.
"We look for partners around the globe to share their innovative ideas and operational insights, adding their expertise to the sustainable aviation mission. Ruili Airlines' perspective will be invaluable in the development of the Energia family of aircraft."
In November 2021, Embraer unveiled a family of four low- or zero-emission concept aircraft for the regional market that it hopes to fly over the coming decades, including hybrid-, all-electric and hydrogen-powered models.
Cirium fleets data indicates that Ruili's fleet comprises 15 Boeing 737-800s and seven 737-700s. It also has orders for 38 737 Max 8/9 aircraft.