Archer Aviation faces a class-action lawsuit alleging that it and top executives misled investors about Archer's business prospects and its progress in certificating an electric air taxi.
Filed on 21 September in a California federal court, the suit comes as San Jose-based Archer works to certificate an electric vertical take-off and landing (eVTOL) aircraft called Midnight that it says could be flying passengers in 2025.
The lawsuit's allegations are based partly on conclusions in a 16 August report by Grizzly Research, a so-called short selling firm that stands to gain if a firm's stock price declines.
The suit alleges that Archer, chief executive Adam Goldstein and others made misleading statements about the company's progress, violating US securities laws.
Archer denies the allegations.
"We believe the claims are without merit and we intend to defend ourselves vigorously," the company says. It declines to elaborate.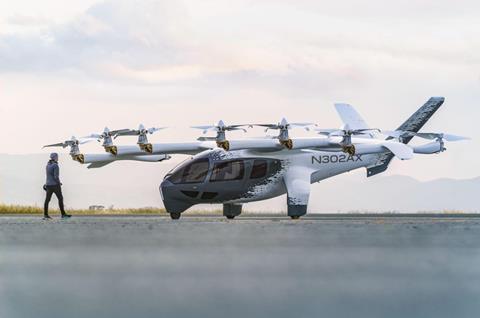 The suit was filed by law firm Pomerantz, which is an active litigator of class-action suits brought against various companies. Robert Willoughby with Pomerantz says the Archer complaint is based on facts and publicly available information.
In addition to Archer and Goldstein, the suit names former Archer co-CEO Brett Adcock, current chief financial officer (CFO) Mark Mesler and former CFO Ben Lu.
Archer is among the highest-profile companies in the crowded eVTOL field. It is developing a four-passenger aircraft called Midnight. This year Archer hired former Federal Aviation Administration acting administrator Billy Nolen as its chief safety officer.
The start-up and other air taxi developers insist their aircraft will revolutionise short-distance travel in urban areas. But the air-taxi business model remains unproven and developers face certification and other regulatory uncertainty. The FAA has yet to finalise how it will oversee such aircraft and their operation.
Archer has repeatedly insisted it is marching toward certification. In August, the company said the FAA had issued a "special airworthiness certificate" for Midnight that allowed flight tests to begin. Midnight "has continued hitting key certification milestones on schedule", Archer said, adding that it planned "to start for-credit testing" of Midnight in early 2024.
Archer plans to manufacture its air taxis at a site now under construction in Covington, Georgia.
The class-action lawsuit alleges that Archer's goal of carrying passengers in 2025 is unrealistic, citing Grizzly's report. That report says, according to the lawsuit: "Even if Archer successfully begins flying Midnight, the path to earning Midnight a production certificate required to commence commercial sales seems years away".
The Grizzly report also alleges that Archer used "heavily edited videos of earlier flights to exaggerate the amount of flight testing it had actually performed". It says Archer "bought credibility" through partnerships with United Airlines and auto maker Stellantis, offering those companies millions of shares of stock in exchange for little compensation.
United is among the most prominent Archer partners. The airline in January 2021 agreed to a "conditional purchase order" covering up to 200 of Archer's air taxis. In exchange, Archer gave United the right to purchase up to 14.7 million shares of Archer stock at 1 cent each. United made a $10 million pre-delivery payment to Archer in August 2022.
In January, Archer entered into an agreement under which Stellantis will help Archer develop manufacturing operations.
The air taxi company became publicly traded when it merged in 2021 with a special purpose acquisition company (SPAC) called Atlas Crest Investment.
At the time, SPAC mergers were wildly popular, with start-ups raising hundreds of millions of dollars through such deals. The craze has since ebbed.