Chinese airframer Comac may have to wait several more decades before Western lessors back its aircraft, but that point will nonetheless definitely arrive, says Avolon's chief executive.
Comac counts numerous Chinese leasing companies as customers for its C919 narrowbody, which is yet to enter service, but their Western counterparts have largely steered cleared of the programme.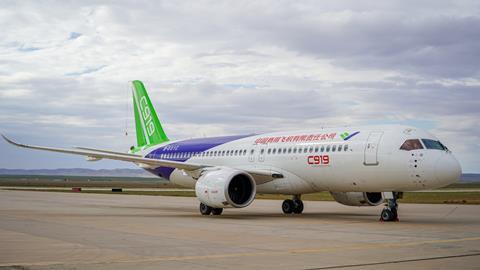 Speaking today during a Eurocontrol Aviation StraightTalk webinar, Domhnal Slattery said that in the short-term the C919 was not of interest to Bohai Leasing-owned Avolon.
However, Slattery sees the airframer as only becoming stronger: "It's probably a success in the middle of the century, rather than this next decade," he says.
"So there will be a point in time, based on either the technology of the aircraft [or] market adoption, where Comac aircraft… will become an investable asset class from our perspective."
While that point may be "decades away", Slattery argues there is an "inevitability" about the company's rise.
"I certainly wouldn't underestimate the strategic influence that Comac will have on the global aviation market this century," he says.
Demand for air travel in China remains depressed thanks to the lingering impact of Covid-19 in the region. However, Slattery stresses that the country will still be "the dominant aviation market in the world for the next 20 to 30 years".
Avolon's analysis suggests that China has "under-ordered" by 800-1,000 narrowbodies and potentially up to 200 widebodies. Beijing has previously periodically placed large orders with both Airbus and Boeing, but that activity has been absent for several years.
"The fleet has aged as a consequence and demand, leaving aside Covid, is only going one way given the demographic backdrop," he adds.