Lawmakers have excluded from a defence spending bill a critical exemption Boeing is seeking for its 737 Max 7 and 10, leaving more questions about those jets' certification path.
The exemption would have freed Boeing from needing to equip its Max 7 and 10 – both of which remain in the certification process – with a modern pilot-alerting system.
Newly certificated jets must, as of 27 December, have such systems under a 2020 law. The requirement stems from two 737 Max crashes.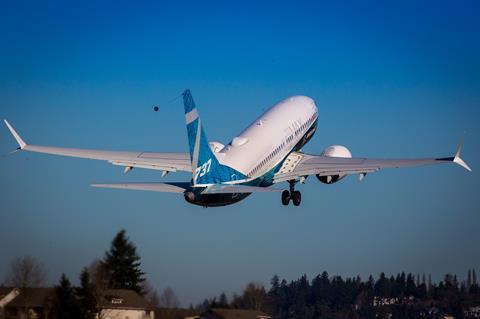 Several lawmakers had supported slipping an exemption into the US National Defense Authorization Act (NDAA), which Congress aims to finalise in the coming days.
But a staff member on the Senate Committee on Armed Services tells FlightGlobal the NDAA bill excludes the exemption.
"There is not a route forward for that provision to be attached to the bill," says the source.
The House of Representatives and Senate have already agreed to the text of the bill, and it has been approved by the House of Representatives. The bill now moves to the Senate for a vote. The committee expects President Joe Biden will sign the bill into law before year end.
Why lawmakers excluded the exemption from the NDAA remains unclear, but the measure faced pushback from Allied Pilots Association and others, including family members of those killed by two Max crashes.
Boeing declines to comment.
Aerospace analyst Richard Aboulafia with AeroDynamic Advisory describes the exemption as a tricky issue, noting "no one in Congress wants to call attention" to it.
For that reason, slipping the measure quietly into the 4,400-page NDAA made sense. But with that route now closed, Boeing and its supporters might try again, perhaps finding another bill in which to insert the exemption.
"Its just not clear what the mechanism is," Aboulafia says.
The 2020 law prohibits the Federal Aviation Administration, starting 27 December, from certificating aircraft lacking a "flight crew alerting system".
Such technology, which helps pilots address aircraft problems, is standard on essentially every other large in-production commercial aircraft – except the 737 Max. The Boeing narrowbodies have an older cockpit-alert system.
Some insiders have noted that the 2020 law was never meant to apply to the Max 7 an 10, as those jets were expected by now to have been certificated.
But, amid heightened FAA oversight, Boeing has repeatedly delayed the certification timelines.
The company most recently said it aims to have its Max 7 certificated by early next year, followed by the Max 10 no later than early 2024. Updating the jets with a modern alerting system would be expensive and time consuming.
Senators Maria Cantwell of Washington state and Roger Wicker of Mississippi had supported exemptions, though with differing details.
Boeing chief executive David Calhoun has ramped pressure on Washington to find a solution by threatening to otherwise cancel the Max 10 programmes, Aboulafia notes.