Daher has partnered with a French technology start-up to develop power systems required for a hybrid-electric aircraft that the airframer intends to have available in 2027.
Daher chief executive Didier Kayat said on 20 June that Toulouse-based Ascendance Flight Technologies has joined the project, which he describes as a shift by Daher towards reducing aviation's carbon output.
"We are going to work together on the technology," Kayat says on the second day of the Paris air show. "The idea is to speed up our specifications, [which] we will need in order to have our own aircraft."
Founded in 2018, Ascendance specialises in designing, modelling, integrating and testing hybrid-electric power technologies.
Its chief executive Jean-Christophe Lambert says his company is developing a 1MW electric propulsion system.
Daher, also a French company, has previously signalled its intention to develop a hybrid-electric aircraft and is now studying the technology under its EcoPulse demonstrator programme. Kayat says Daher's future production hybrid-electric aircraft will benefit from the EcoPulse research.
"I want to have a product launch in 2027," Kayat says.
Much remains unknown about Daher's project. Kayat says it will be a modified version of an existing aircraft type rather than a clean-sheet design, though he adds: "We don't know which aircraft it will be".
Daher's current aircraft include TBM 900-series turboprops and, via its US subsidiary, Kodiak utility aircraft.
EcoPulse is a project with support from Airbus and Safran under which Daher is developing a hybrid-electric variant of a TBM 900.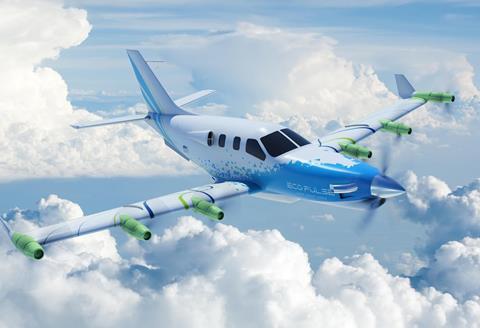 Daher supplemented the TBM's standard Pratt & Whitney Canada PT6 turboprop with six wing-mounted propellers, each driven by a Safran-supplied 50kW electric motor.
Kayat says Daher plans to complete flight-testing of the modified TBM by year-end.
"We have decided that we had to invest heavily to decarbonise our aircraft," Daher chair Patrick Daher says.