French aerospace company Daher has unveiled a new US-built aircraft called the Kodiak 900 – and it is already certificated.
The airframer revealed the utility and passenger aircraft, which is a larger sibling of the Kodiak 100, on 25 July.
Daher says the US Federal Aviation Administration certificated the 900 on 20 July. The company expects to begin delivering the new in 2023.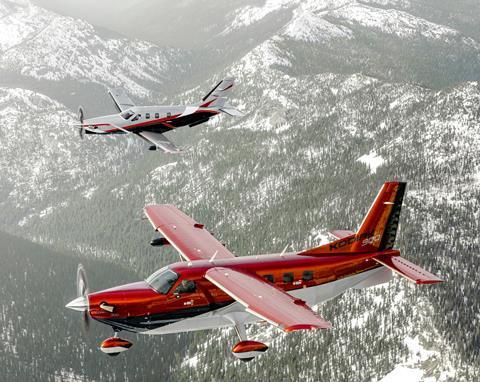 Daher calls the 900 a "larger, faster version of the robust and rugged Kodiak 100".
The 10-seat Kodiak 900 is powered by a single Pratt & Whitney Canada PT6A-140A turboprop that generates 900hp (671kW).
The aircraft can cruise at 210kt (389km/h), has maximum range of 1,129nm (2,091km) and can carry payload up to about 1,633kg (3,600lb).
Those figures mean the Kodiak 900 will outperform the previous-generation Kodiak 100, also a 10-seater. The 100 has maximum cruise speed of 174kt and range up to 1,132nm, according to Daher.
The 900 also has a larger fuselage that measures 11.4m (37.6ft) front-to-back. The 100's fuselage is 1.1m shorter.
Daher also stresses the fuel efficiency of its newest model, saying the 900 burns about 9% less fuel than does the Kodiak 100, which is also powered by a PT6.
Daher acquired US manufacturer Kodiak in 2019. The company produces 100s and 900s at its facility in Sandpoint, Ohio.
In recent years Daher has been expanding in the USA. In addition to acquiring Kodiak, in July it purchased a Florida aerostructures manufacturing site in Florida from Triumph Group. The site makes components for airframers like Boeing and Gulfstream.