Data suggests Boeing produced far fewer 737s in 2022 than it had planned, completing an average of 25 jets monthly during a year characterised by nagging supply chain and labour struggles.
Boeing does not disclose actual production rates, but the company early last year had been working to boost 737 production to a rate of 31 jets monthly.
In July 2022, executives said Boeing's production system had reached the 31-per-month goal, while cautioning that ongoing month-to-month output would vary amid production system challenges.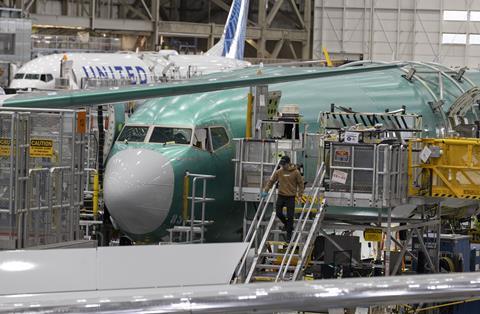 But a 17 January report from financial firm Jefferies estimates Boeing's 737 production rate last year averaged in the "mid-20s" monthly.
Jefferies bases that figure on the number of 737 fuselages shipped by fuselage maker Spirit AeroSystems to Boeing last year, saying those shipments provide "insight" into Boeing's production rates.
Jefferies says Wichita-based Spirit shipped 306 737 fuselages to the airframer in 2022 – an average of 25.5 aircraft. Notably, Spirit's deliveries declined through last year, from 89 in the first quarter to 77 in the second, 71 in the third and 69 in the fourth, Jefferies' report says.
"Broader shortages on engines/castings have led to shipments trending below [Boeing's] stated 31 per month production rate," Jefferies says.
Boeing did not immediately respond to a request for comment. The company may disclose details about its 2022 production when it releases its 2022 financial results, scheduled for 25 January.
Jefferies' 2022 production estimates align roughly with aircraft tracking data collected by data firm Cirium.
Though Cirium does not directly track production, it does track aircraft first flights – a data point that roughly indicate when an aircraft's production is complete.
Cirium data show that 281 737s made first flight in 2022 – an average of about 23.5 monthly.
Though Boeing's production remained constrained in 2022, it did meet its target of delivering 375 737s in 2022.
Boeing actually handed over 387 of the jets last year – an average of about 32 monthly. Those included newly produced 737s and aircraft that Boeing had produced during the 737 Max grounding.
Like competitors, Boeing struggled last year to overcome labour shortages and shortfalls of key parts. Notably, executives cited having too few of the 737 Max's CFM International Leap-1B turbofans. Boeing also faced problems with 737 manufacturing quality.
Airbus has struggled through similar supply chain issues, which contributed to it closing 2022 having delivered 40 fewer aircraft than it had planned.
Such production shortfalls are likely to persist, executives from two major aircraft lessors said on 16 January during the Airline Economics Growth Frontiers Dublin conference.
Air Lease executive chair Steven Udvar-Hazy says "both OEMs are struggling to meet their contractual commitments".
"There are not enough engines, titanium, forgings, landing gear. They are the victims of a very complex supply chain, down to mom and pop shops," Udvar-Hazy adds.
AerCap CEO Aengus Kelly said Airbus in particular has over-promised what it can deliver.