After a 35-year hiatus, De Havilland Canada is rebooting production of its DHC-6 Twin Otter 300, a move responding to customer demand for a lighter utility aircraft with more payload capability than the current Series 400 variant.
The Canadian manufacturer launched the new Twin Otter Classic 300-G variant in Le Bourget on 19 June. The aircraft will have Garmin G1000 NXi avionics and a choice of Pratt & Whitney Canada PT6A-27 or -34 turboprop engines.
De Havilland Canada has identified Jetcraft Commercial, a division of aircraft broker Jetcraft, as launch customer for the type with an agreement to purchase 10 examples. Indian regional airline Flybig has also signalled its intention to purchase six 300-Gs alongside two Twin Otter Series 400s.
The airframer expects to deliver the first 300-G in 2024.
De Havilland Canada vice-president of corporate affairs Neil Sweeney says the company launched the Twin Otter 300-G after completing a review with customers.
"They're looking for improved avionics. They were looking for greater payload. They were looking for some flexibility in the engines," Sweeney says. "They wanted something that was lighter and had more ability to make them a profit.
"We've put into production… a more-usable, customer-friendly aircraft. It's more economical," he adds.
De Havilland Canada stopped producing Twin Otter 300s, which it offered with PT6A-27s, in 1988. Production remained paused until Viking Air acquired the programme and launched the updated Series 400 variant in 2007.
It had been producing the Series 400 ever since, though that aircraft's future has recently become uncertain. In 2020, during the pandemic, Viking Air parent Longview Aviation Capital said it was pausing Series 400 production and conducting a customer review. Longview also shifted the Twin Otter from Viking to the De Havilland Canada brand, which it also owns.
De Havilland Canada's decision to reboot the Twin Otter 300 throws fresh momentum behind the programme.
The 300-G will weigh 136-181kg (300-400lb) less than other previous variants, allowing it to carry more payload, or to fly farther with the same payload. Some of that weight saving comes from the Garmin avionics, which are lighter than the Series 400's Honeywell package, says Sweeney.
The 300-G's maximum payload on a 100nm (185km) flight will be 1,972kg, which compares with 1,842kg of payload for a Twin Otter Series 400 operating the same mission.
"With the same rugged airframe, the lighter-weight DHC-6 Twin Otter Classic 300-G will deliver increased payload range and decreased operating costs for our customers," says De Havilland Canada chief executive Brian Chafe.
Jetcraft Commercial president Raphael Haddad calls it "the best-in-class commuter aircraft solution".
Like other Twin Otters, the 300-G will be capable of carrying passengers or cargo, and De Havilland is offering it with floats and skis instead of traditional landing gear.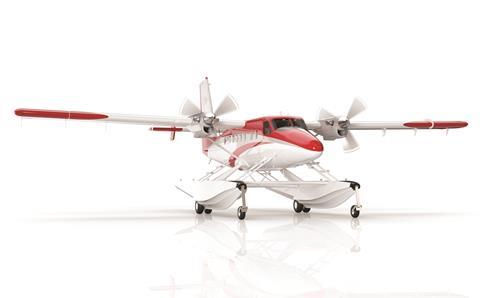 PT6A-27s are the "economical" of the two engine options, while PT6A-34s are "designed for extreme operations" and "challenging environments".
The global fleet of Twin Otter 300s stands at 342 in-service and 62 stored aircraft, according to Cirium data.
Despite launching the 300-G, Sweeney says De Havilland Canada will, should demand exist, continue producing Series 400 aircraft, although the company has now nearly produced all the examples in its backlog.
This story was updated on 19 June to note that Flybig also committed to Twin Otter purchases.