Questions about whether Boeing will need to modernise the 737 Max 10's pilot alerting system are swirling ahead of a December deadline that will require newly certified aircraft have modern alerting technology.
The deadline is written into a December 2020 law that tweaks some aspects of US aircraft certification rules and that stems from two 737 Max crashes and the resulting fallout.
Starting in December 2022, the law prohibits the Federal Aviation Administration from certificating aircraft that lack a modern "flight crew alerting system".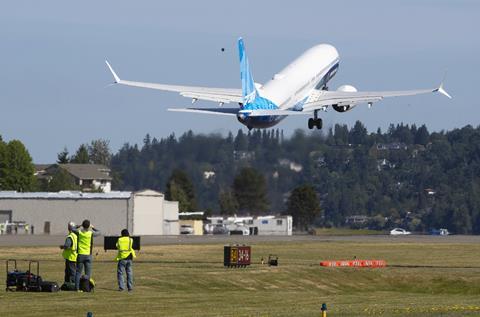 That type of system "displays and differentiates among warnings, cautions and advisories, and includes functions to assist the flight crew in prioritising corrective actions and responding to systems failures", says the law, signed by then-president Donald Trump on 27 December 2020.
Based on a decades-old design, Boeing's 737 Max lacks that type of modern system, typically called an Engine Indicating and Crew Alerting Systems (EICAS).
Experts say updating the Max 10 with more-modern alerting technology could be costly and require lengthy development and implementation. One expert also questions potential benefits, citing the 737's already-strong safety record and noting that new pilot training could create confusion among pilots long trained in the 737's legacy systems.
Because the requirement applies to newly certificated jets, it does not affect the already-certificated 737 Max 8 and Max 9, which have been flying since regulators lifted those types' 20-month grounding in November 2020.
But Boeing has yet to achieve certification of two other members of the Max family: the Max 7, which is the smallest variant, and Max 10, which is the largest.
Boeing has said it anticipates delivering the first Max 7 "early" this year – well ahead of the December deadline.
But the company anticipates delivering the first 737 Max 10 in 2023. Boeing has not said when it expects to achieve the Max 10's certification, but the timeline runs up against the legislative deadline. If certification slips past end-December, Boeing might need to develop an updated cockpit alert system.
"Boeing is seeking FAA certification of its 737 Max 10 without including an advanced flight crew alerting system – an industry standard since 1982 found on every current Airbus and Boeing model under production except for the 737s," US lawmaker Peter DeFazio, the influential chair of the US House Committee on Transportation and Infrastructure, said this week.
Boeing, based in Chicago, declines to comment about the 737 Max 10's certification timeline or the related December deadline.
"We continue to work transparently with the FAA to provide the information they need, and we are committed to meeting their expectations to achieve 737-10 certification," the company says. "Safety remains the driving factor in this effort."
Boeing could release more details when it reports first-quarter results, scheduled for 27 April.
The FAA says it "cannot discuss ongoing certification projects", adding that "safety dictates the timeline".
LEGACY SYSTEM
The Max's pilot alerting system is essentially the same as on previous 737 variants, stretching back to the original variant, designed decades ago, says Peter Lemme, aerospace consultant and former Boeing engineer who worked on several Boeing flight-test programmes.
The system includes two panels: one in front of the pilots on the glare shield, and another over their heads.
The forward panel has about a dozen alerts that correspond to aircraft systems, telling pilots when one of those systems has a problem.
Pilots must then look above their heads at another panel to determine specifically what system is affected, Lemme says.
Generally, the design works well, but difficulties arise when multiple systems fail simultaneously. In such cases, the 737 provides "no prioritisation", meaning pilots are left to decide which issues to address first, Lemme says. "That's a big problem because… [pilots] may be addressing the least impactful fault".
How pilots respond to multiple failures might depend on their familiarity with the 737, and training, he adds.
By comparison, EICAS are centralised alert systems that display all alerts and prioritise them for pilots.
"They are able to sort the most important [faults] at the top of the list," says Lemme. Pilots also need not "search around the airplane" for information, nor make judgement calls about which errors to prioritise.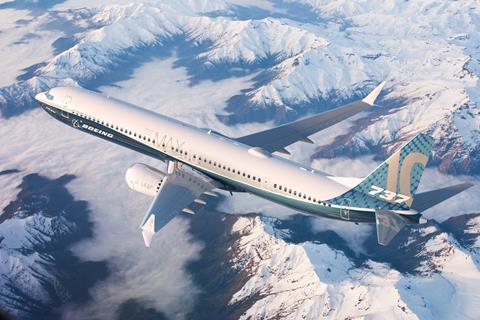 Congress's requirement that newly certified jets have modern alerting systems stems from the two 737 Max crashes. Those accidents involved erroneous activation of the Max's Maneuvering Characteristics Augmentation System.
But investigators also raised concern that an array of cockpit alerts may have confused the jets' pilots, leading them to respond in ways not expected by Boeing.
Some aerospace and financial analysts suspect the Max 10's certification will not come before the end-December deadline.
They note that the FAA, itself under intense scrutiny following two 737 Max crashes, has been more methodical in its work and bucked pressure to speed up. The FAA has pushed back against some aspects of the 777-9's certification and held up Boeing's deliveries of 787s amid concerns about quality.
The agency, with its existing resources, might not have enough time to clear the Max 10 before year-end, one analyst says.
That suspicion gained credence in March, when Reuters reported that the FAA, in a 21 March letter to Boeing, warned the airframer that the Max 10 might not be certificated before new rules take effect.
The US Congress could potentially grant Boeing an extension or exemption, though the likelihood of that remains uncertain at best.
"The FAA should side with safety and establish a high bar for the certification of the 737 Max 10," says DeFazio, who helped write the 2020 law. Congress "gave the FAA a two-year grace period in which it could still certify aircraft without the advanced flight crew alerting system, but that grace period should not be extended".
"The FAA is going cut Boeing no slack," predicts aviation safety consultant and former National Transportation Safety Board member John Goglia.
The expense and time Boeing would need to invest to equip the Max 10 with a modern cockpit alert system remains unclear. But analysts say further delays to the Max 10, or cockpit changes that necessitate new pilot training, would be costly.
Analysts view the Max 10 as critical to Boeing's ability to counter the market success of Airbus's largest and newest A320 variant, the A321neo. The jet will carry up to 230 people and have 3,300nm (6,112km) of range. Airlines value the common ratings that allow pilots to fly multiple Max variants.
SAFETY BENEFIT?
Lemme, the former Boeing engineer, says Boeing first had an opportunity to give 737s an EICAS when it developed the 737-300 in the early 1980s. At that time, Boeing was also developing the 757, which it did equip with an EICAS, and in doing so set a new standard for safety.
The airframer decided against giving the 737-300 a similar system due to pushback from airlines, which wanted the -300 to be similar to the -200, Lemme says.
"You can understand, in the moment, how it happened," Lemme says. "If [Boeing] had only embraced the 757 cockpit when they introduced the 737-300, it would have been huge."
Boeing could have likewise updated the alerting system when it launched the Max, but the company faced similar practical considerations from airlines.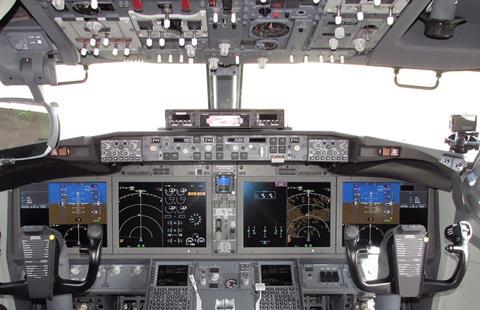 Lemme understands why Boeing has not done overhauled the system, saying, "It's not a lightweight initiative. This is a big change to the airplane. It is going to take a lot of development to get it right".
He also questions the safety benefit of suddenly requiring Max 10s have EICAS, even as other Max variants do not, and says 737s have "an outstanding safety record" that is comparable to the EICAS-equipped A320.
"The idea of revising the airplanes to include EICAS at this stage – it's dead on arrival," says Lemme. "It would make it less safe, ultimately. You have this enormous body of pilots that are used to operating this way… It's not an easy transition."
The Max 10, which first flew on 18 June 2021, is 43.8m (144ft) long – about 1.6m longer than the Max 9. That extra length required Boeing to extend the type's main landing gear.
To avoid redesigning the wheel-well, Boeing developed a levered gear that extends 241mm (9.5in) upon rotation during take-off. When pilots retract the gear, a "shrinking mechanism" pulls in a cylinder, letting the gear fit into the standard wheel-well, Boeing has said.
The airframer has landed orders for 568 Max 10s, including 238 ordered by United Airlines. Other buyers include Alaska Airlines, Copa Airlines, Flydubai, Gol, Lion Air, SpiceJet, Vietjet, Virgin Australia and WestJet, according to Cirium fleets data.
Story updated on 20 April to include a comment from the FAA. Story updated on 21 April to use the acronym EICAS instead of ECAS.