Embraer insists that it is serious about developing a new low-emission regional aircraft under its Energia initiative and could even launch a fully-fledged development programme within the next two years.
But first it will fly a series of hydrogen-based demonstrator aircraft, with the next – a newly disclosed fuel cell-powered version of its Ipanema crop-duster – to arrive in 2025.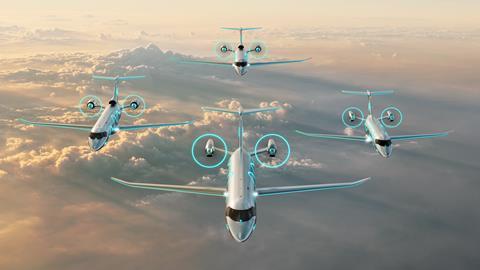 Nonetheless, the airframer insists that whatever design it ultimately pursues will be supported by a strong business case – for itself and for operators.
Unveiling the evolution of its Energia concepts on 6 December, Embraer showed four aircraft designs that reflect the airframer's work since the project was announced in 2021.
The revised Energia aircraft line-up has been shaped by feedback received from airlines on its Energia Advisory Board, and a better understanding of the technological roadmap.
Embraer now sees potential for 500nm (926km)-range 19- and 30-seat hybrid-electric aircraft to enter service from 2030 – it has ditched the previous plan for a nine-seat hybrid – and 200nm-range 19- and 30-seat hydrogen fuel cell-powered models from 2035, rather than just a 19-seater.
Both designs feature rear-mounted engines or electric motors, allowing efficiency gains from lightweight, slender wings.
Meanwhile, the possible service entry for a nine-seat all-electric type has shifted to as late as 2040, from 2035 previously. A hydrogen-burning turbine-engined design with 35-50 seats is still pegged for 2040, however.
Explaining the shift in capacity, Embraer Commercial Aircraft vice-president of marketing Rodrigo Silva e Souza says "the higher you go in seat capacity the less uncertainty we have about demand".
Customer interest in a 19-seater is "more difficult to predict than if you go to 30 or 50 seats or beyond", he adds.
"That's why we went up a little bit [in size] because the intention is to make a business case for this – we are not here just for the technology development or a greenwashing exercise."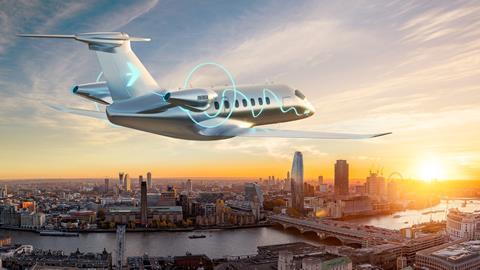 Assuming that business case can be closed relatively rapidly, a programme launch could come sooner rather than later, says Souza, as an aircraft with a novel powertrain may require a longer development cycle than the typical five-year timeframe for an aircraft using conventional technology.
"These projects might require a different business model, some different thinking," he says, noting that Embraer's Eve advanced air mobility vehicle "had an earlier launch".
"So it's actually part of the study how to make this programme viable to analyse different business models. In a normal way [launch] would be around 2025."
But despite the changes to the capacity of the Energia aircraft, which Embraer stresses at this stage are still no more than concepts, its service-entry targets still lag those of other manufacturers and powertrain developers, whose products are slated to arrive on the market from 2025.
But Souza is unconcerned: "Most of these projects are from start-ups, and they need to market an earlier entry into service to attract investors. In our case it is different," he argues.
"In some cases, you have already seen people moving entry into service to the right – moving from 2025 to 2027 or 2028 - I would expect that movement to continue."
Embraer, he says, is working to the concept of "complete entry into service" – a more holistic view of the entire ecosystem and the ability of operators to turn a profit - than simply a narrow focus on technology readiness.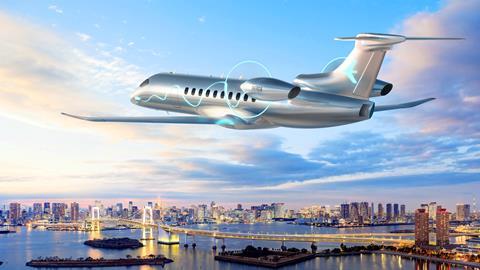 BATTERY LIMITS
Indeed, Embraer seems particularly bearish – realistic, perhaps – on the prospects for a battery-only aircraft, with its service-entry forecast around a decade behind those of rival developers, even those working on clean-sheet designs.
That is coloured by Embraer's analysis of the trajectory of battery improvement, says Daniel Galhardo Gomes, head of market intelligence, market strategy and product strategy for Embraer Commercial Aviation.
"The way we see the batteries that will be available in this decade, they will give poor performance for this airplane." To get any sort of commercially viable range, the weight of the batteries would be so significant that "payload would be very limited", he argues.
Because Embraer's hybrid-electric concepts are so-called "mild" hybrids – using the batteries to supplement rather than supplant a thermal engine – they are less reliant on significant improvements in cell performance or cost.
And while others, Airbus, for example, see strong potential for fuel cells to power an aircraft with at least 100 seats, Embraer thinks the "optimum design point" for such technology is with smaller aircraft thanks to thermal-management challenges, which grow in step with the size of the system.
Embraer sees fuel calls as having a marked efficiency advantage over small turbine engines, but it is a gap that narrows significantly as power requirements increase.
At a power output of 4MW "the thermal management issues start to get really big", requiring large heat exchangers and associated weight and drag penalties. "This is why we are focused on this sweet spot in the 19-30-seat category," says Souza.
Over the next year, Embraer will "go deeper on these concepts", including further research on fuel cells which may prompt it to scale up further. "But for now, that's our best view in terms of technology readiness and commercial viability," he says.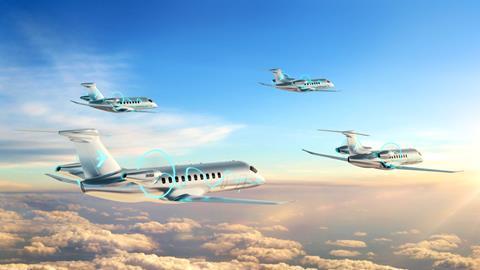 Embraer's concept sees the heat exchangers located in the nacelles and the rear fuselage, the latter including an air intake at the base of the vertical tail which takes advantage of the Meredith effect – using the expansion of the air used for cooling to generate thrust – to offset the drag.
Liquid hydrogen would be stored in a tank in the aft fuselage, while the fuel cells would be in the rear of the tail.
Embraer says it is too early in the process to provide exact aircraft specifications but says the maximum take-off weight (MTOW) of the 30-seat fuel cell-powered aircraft would be in excess of 12t. In comparison, the EMB-120 Brasilia, a 30-seat turboprop introduced by the company in the 1980s, had an MTOW of 11.5t.
TIME TO LAUNCH
With the clock ticking towards a possible launch decision, Embraer is directing its efforts in two directions. On the one hand, it continues to seek input from the airlines that make up its Energia advisory group, and on the other, it is working to deepen its understanding of the technologies on offer.
The advisory board comprises 27 individuals from 20 airlines, says Souza, both mainline and regional carriers. So far, only Wideroe in Norway and Ruili of China have been named.
Feedback from that group will be key to the timing of any aircraft programme: if something is needed sooner, that might steer Embraer towards hybrid-electric. But if a zero-emission solution is wanted and airlines are prepared to wait, hydrogen fuel cells become more attractive, explains Gomes.
Meanwhile, Embraer in 2023 will have a "lot of interactions with the engine manufacturers and the new propulsion system manufacturers to understand their development plans," says Souza.
On top of which, the airframer will develop its own technology demonstrators. It has already flown an electric-powered version of its Ipanema crop-duster and will by 2025 be operating a fuel cell-powered version of the same type.
Additional hydrogen demonstrators will follow to "advance its technology readiness", including liquid hydrogen storage, cryogenic systems, dual-fuel combustion, and thermal management.

Dominic Perry is deputy editor of Flight International but also contributes extensively to flightglobal.com. Although specialising in the coverage of the helicopter industry, he has written on most topics in aerospace – be they commercial, defence or business aviation. In addition, there has been an increasing focus on the decarbonisation of the industry and zero-emission flight initiatives.
View full Profile