Deutsche Aircraft is to partner with German fuel-cell developer H2FLY on a project that will see the partners demonstrate a hydrogen-powered Dornier 328 by 2025.
H2FLY has previously flown a hydrogen-electric-powered four-seater, but the partnership with Deutsche Aircraft will see it scale up its fuel-cell technology for the regional aviation market.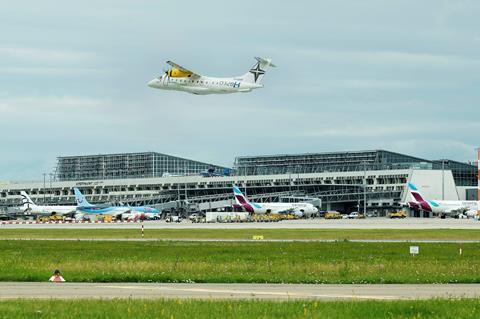 Ultimately, the pair aim to "validate the potential" for hydrogen fuel cells to power a 40-seat aircraft; a 328-100 can accommodate 33 passengers.
Under the collaboration, covered by a memorandum of understanding, the pair will use a 1.5MW fuel-cell system to power a Do 328. At present, the twin-turboprop uses a pair of Pratt & Whitney Canada PW119C engines, each rated at 2,180shp (1,620kW).
Aside from the integration of the new powertrain, the two companies will work to define the technical and certification standards requirements for large transport aircraft.
Deutsche Aircraft is already modernising the 328-100 under a programme it calls the D328eco, which is scheduled to enter service in 2025.
The D328eco gains new engines, avionics and a 2.1m (6.8ft) fuselage stretch, raising capacity to a maximum of 43 passengers. It will also be configured to run on 100% sustainable aviation fuel.
While it may only be for illustrative purposes, the image supplied by Deutsche Aircraft to accompany its announcement shows an aircraft branded as a "D328H". It also bears the registration D-CAAN – a 1996-built airframe acquired by 328 Support Services in 2018.
Deutsche Aircraft's sister company 328 Support Services is the 328-100's type certificate holder.
Oddly, the agreement today is the second recent announcement of a hydrogen fuel cell conversion programme for Dornier aircraft: last week US firm ZeroAvia said it would acquire a pair of smaller 228s for its UK-funded HyFlyer II project.