Deutsche Aircraft has selected GKN Aerospace to supply the empennage for its D328eco platform, as supplier selection for the modernised twin-turboprop gathers pace.
Based on the Dornier 328, the D328eco can accommodate around 40 passengers and is designed to have a low carbon footprint and enter service by mid-decade.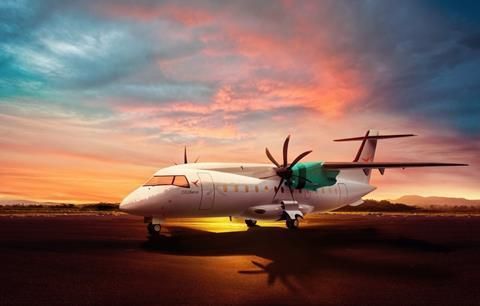 GKN will work with the airframer to develop and industrialise production of the carbonfibre empennage, which includes the vertical fin and horizontal stabiliser.
"The selection of GKN Aerospace with its deep knowledge and long history in advanced composite materials and processes is a perfect fit to the D328eco programme and aligns with the objectives from Deutsche Aircraft," says Nico Neumann, vice-president of operations and programmes for the German firm.
GKN will manufacture the structure at its Munich site. While the D328eco is being developed at nearby Oberpfaffenhofen, serial production will take place at a purpose-built facility at Leipzig Halle airport.
Under the previous D328 programme, the empennage and tail structures were made at plants in Munich and Augsburg then owned by EADS.
Deutsche Aircraft recently appointed Garmin to provide its G5000 avionics suite for the D328eco, joining propulsion supplier Pratt & Whitney Canada on the project. The twin-turboprop will be powered by PW127S engines and will be 100% compatible with sustainable aviation fuel.