Embraer has again paused the development of the E175-E2, with the smallest member of its re-engined E-Jet E2 family now not scheduled to enter service before 2027.
Announcing the latest three-year pause on 18 February, the Brazilian airframer blamed scope-clause limits in the US regional market and the state of the global commercial aviation industry for the delay.
In addition, it cites the continued popularity of the current E175 as a factor in its decision.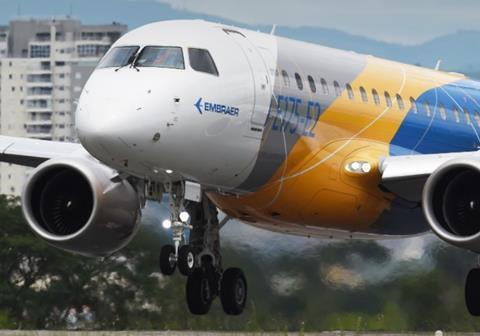 "The company expects to resume the programme development activities following the aforementioned period, which will result in a re-programming of the aircraft entry into service between 2027 and 2028," says Embraer in a Brazilian stock market disclosure.
Embraer's launch schedule for the Pratt & Whitney PW1700G-powered E175-E2 saw service entry in 2020. However, previous programme pauses – again due to issues around scope-clause limits – saw that date shunted to 2021 and then 2023. First flight of the 80-seat twinjet took place in December 2019.
Embraer lists no orders for the E175-E2, while it counts 147 firm commitments for the 76-seat E175, according to its backlog figures to 31 December.
The scope-clause limits are set out in agreements between the major US airlines and their pilot unions designed to prevent more flying being handed over to regional affiliates. Under these rules, the regional carriers are prohibited from operating aircraft that have more than 76 seats or a maximum take-off weight (MTOW) in excess of 39,000kg (86,000lb).
With its 76 seats, the first-generation E175 met the standard, but the higher capacity of the E175-E2, plus its heavier geared turbofan engines and fuselage that is 73cm (29in) longer, push MTOW to 44,600kg – well in excess of the scope-clause limit.
No progress has been made in negotiations between the mainline carriers and unions to relax the size restrictions.