UK-based Electric Aviation Group (EAG) has selected a hydrogen fuel cell-based powertrain for its future H2ERA regional aircraft, citing the technology's promise of delivering zero greenhouse gas emissions.
But the change in architecture will mean that the 90-100-seater now enters service in 2030, rather than 2028 as previously planned.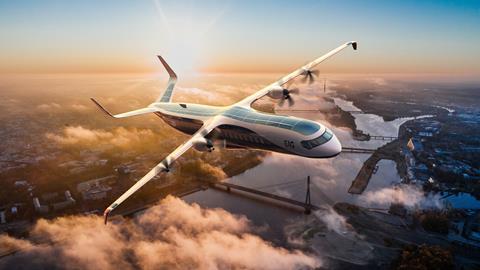 Although the H2ERA was launched last year with a hybrid-electric powertrain, start-up EAG has since been evaluating numerous possible alternatives.
Chief executive and founder Kamran Iqbal says the decision was driven by the "true zero" potential of fuel cells, as they do not produce carbon dioxide (CO2) or nitrogen oxide (NOx), both of which contribute to global warming.
While burning hydrogen in a conventional engine in place of jet fuel does not produce CO2, NOx emissions remain a problem.
"We have opted for the technology that offers the maximum benefit to the environment," Iqbal says. "It is challenging, but it is full of exciting opportunities as well."
Hydrogen fuel cells have been used to power small aircraft – for example a six-seat Piper PA-46 Malibu converted by ZeroAvia – but so far have not been tested in an aircraft of the H2ERA's size.
EAG's plans to call for an aircraft that can carry up to 100 passengers, cruise at 360kt (666km/h), with a minimum range of 1,200nm (2,220km) – essentially competing against the De Havilland Canada Dash 8-400 and similar aircraft.
So far, no decisions have been taken on the final configuration of the H2ERA, with trade studies currently under way to evaluate various options: for example the number and location of propulsors.
However, Iqbal says it is highly unlikely to have a "major paradigm shift in the aircraft's external shape", pointing out the "certification nightmare" of simultaneously developing an all-new powertrain and a novel, blended-wing-type fuselage.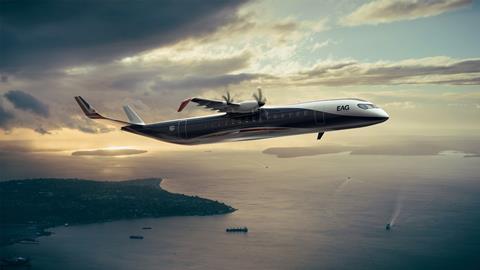 Iqbal declines to specify the power requirement for the H2ERA, although the comparable Dash 8-400 uses a pair of Pratt & Whitney Canada PW150A turboprops, each rated at 4,850shp (3,620kW).
In addition, key suppliers for the project are yet to be announced, although Iqbal promises a "major partnership" will be revealed shortly.
He adds: "We are in the process of forging several very interesting strategic partnerships with suppliers around the globe to co-develop enabling technologies, including hydrogen fuel-cell balance of plant components for our aircraft programme."
But the rethink of the powertrain design means that service entry will now be in 2030 – two years later than originally planned.
EAG intends to spend the next three to four years bringing the systems it intends to employ on the H2ERA to technology readiness level 6, before flying a demonstrator aircraft – a converted turboprop – in 2026.
Successfully proving its systems will allow EAG to offer a retrofit programme to the market prior to the arrival of the clean-sheet aircraft, Iqbal adds.
Meanwhile, Irish wet lease airline CityJet has joined asset manager Falko Regional Aircraft in backing EAG. No details of the size of the carrier's investment, which was signed off in early August, have been revealed, however.
CityJet confirms its investment in EAG, but says it is "unable to disclose the specifics due to confidentiality reasons".
But Iqbal says that the contributions from both partners – whether technical, operational or through introductions – are worth "more than the quantum of their investment", describing them as "money-plus".
EAG recently bolstered its team with the addition of Professors Ric Parker and Nigel Brandon as non-executive board members. They have been joined by Niall Olver, a former chief executive of business jet specialist Execujet, who now runs investment firm EJ Capital and level-D flight simulator developer Axis Simulation.