Electra Aero, a company started by the founder of aerospace innovator Aurora Flight Sciences, has become the latest in a string of aerospace start-ups to unveil the design of an electric aircraft.
Falls Church, Virginia-based Electra is developing a fixed-wing type that will have a single pilot, carry up to seven passengers, cruise at 174kt (322km/h) and have 434nm (805km) range, it said on 8 June.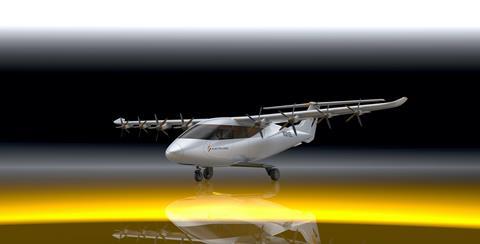 Similar to an electric aircraft being designed by a company called Airflow, Electra's concept is a short take-off and landing aircraft with traditional wings.
The aircraft will have a "blown-lift" design – meaning electric props mounted on its wings will blow sufficient air over the wings to enable the aircraft to get airborne at speeds less than 27kt, it says.
"A combination of batteries and a small, quiet turbo-generator" will power the eight props, the company says. The batteries will charge during flight, meaning Electra's aircraft will "not need to rely on special charging infrastructure".
Electra discloses few other details. Computer-generated images of its design show an aircraft with a T-tail and tricycle landing gear.
The company is now "building technology demonstrator aircraft" and aims to achieve airworthiness certification from the Federal Aviation Administration in 2026. It will pursue certification under Part 23 rules, which apply to utility and commuter aircraft.
Electra founder and chief executive John Langford is a former Massachusetts Institute of Technology student who helped develop a human-powered aircraft called Daedalus, which flew in the 1980s. In 1989, he founded Virginia-based aerospace company Aurora, which specialises in autonomy and which Boeing acquired in 2017.
Aurora developed an autonomous electric vertical take-off and landing (eVTOL) aircraft, which, in partnership with Boeing, it flew for the first time in 2019.
Electra employs a slew of executives with experience at known aerospace companies. Chief financial officer Jilinda Crowley formerly worked at Rolls-Royce, and senior technical fellow Marty Bradley came from Boeing. Other former Aurora employees include director of strategy Diana Siegel, programme manager James Stewart and lead engineer of flight physics Chris Courtin.