US start-up Electra Aero has signed an agreement with Safran Helicopter Engines to develop a hybrid-electric propulsion system for the prototype of its in-development short take-off and landing (eSTOL) aircraft.
Disclosing the deal on 21 June during the Paris air show, Electra says the 600kW propulsion package will include a gas turbine combined with electric generators and an "innovative system of electrical power and voltage regulation".
The system will be based on Safran's Arrano turboshaft engine, "leveraging Safran's broad expertise in electrical equipment".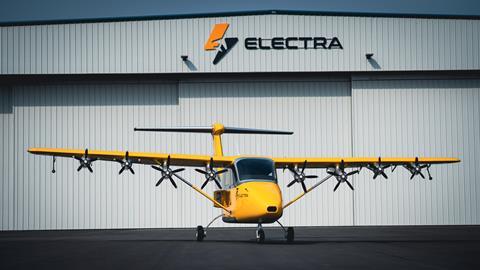 "Electra has carefully studied aircraft electrification and we believe that hybrid propulsion is key to providing emissions and cost reductions while preserving useful payloads, ranges and speeds for our customers – ultimately, building a better aircraft," says JP Stewart, Electra's general manager. "The turbo generator is the heart of this hybrid propulsion system."
"Safran Helicopter Engines is integrating a class-leading modern turbine with their high-efficiency generators," he adds.
Electra's concept for a nine-seat electric commuter aircraft includes a "blown-lift" design with eight electric props blowing enough air over its wings to achieve lift at relatively low speeds, allowing the aircraft to take off from runways as short as 91m (300ft).
The aircraft's hybrid-electric power system is designed to recharge its batteries, which the company claims will eliminate the need for expensive new airport infrastructure. Electra says the aircraft's design will allow for retrofitting with hydrogen or battery-electric propulsion systems "when those technologies are commercially viable".
On June 12, Electra said it had produced a two-seat technology demonstrator that it intends to flight-test this summer, informing the design of Electra's production aircraft.
The company plans to fly a prototype of the nine-seat aircraft in 2025, with entry to service targeted for 2028.