US regional air mobility start-up Electra Aero is getting a financial boost from a venture capital firm focused on developing low-emission transportation technologies.
The Virginia-based electric short take-off and landing (eSTOL) aircraft developer on 26 July disclosed the deal with Statkraft Ventures, saying the investment will allow it to "further develop" its conceptual aircraft – a nine-seat hybrid-electric commuter aircraft with a "blown-lift" design. The blown-lift feature is intended to allow the aircraft to achieve lift at relatively low speeds.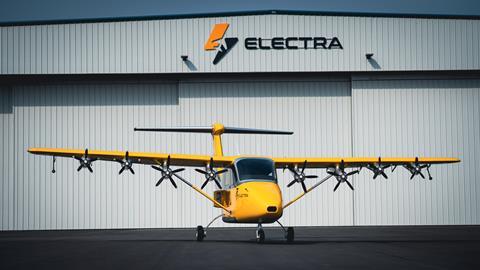 The cash infusion will support "flight-testing of the technology demonstrator and design and production of the pre-production prototype eSTOL aircraft", Electra tells FlightGlobal.
The companies do not disclose financial details, and Electra declines to comment. In January, Electra secured $30 million of funding through the US Air Force's AFWERX programme.
With offices in Germany and Norway, Statkraft Ventures – backed by Norwegian hydropower company Statkraft – says it "provides capital and expertise to accelerate the transition to a more-sustainable future".
"[Electra's] visionary approach and ground-breaking technology to electrify aircraft – reducing operating costs and emissions at the same time – align perfectly with Statkraft Ventures' mission to support innovative start-ups that drive the transition to a low-carbon economy," says Alexander Kueppers, managing director of Statkraft Ventures.
Last month during the Paris air show in Le Bourget, Electra unveiled its two-seat technology demonstrator, the Model EL-2 "Goldfinch", which it plans to begin flight-testing this summer.
The start-up also recently signed a deal with Safran Helicopter Engines to develop the aircraft's hybrid-electric propulsion system.
The company intends to fly a prototype of its eSTOL commuter in 2025 and enter service with its production aircraft in 2028. Electra claims the aircraft will be capable of taking off and landing in the space of a parking lot, and will be optimised for shorter regional routes and connecting underserved regions.