California-based electric air taxi developer Wisk Aero is now a wholly owned subsidiary of Boeing, which previously had been one of two shareholders of the start-up.
Wisk chief executive Brian Yutko said on 31 May that pioneering electric aircraft manufacturer Kitty Hawk - which ceased operations last year - has sold its shares in Wisk to Boeing for an undisclosed amount, leaving Boeing as the sole owner.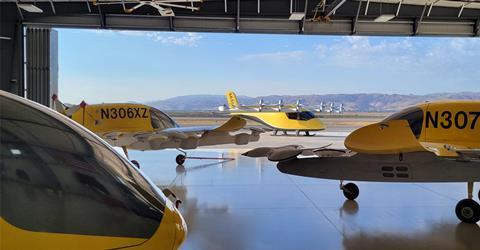 Yutko says he cannot comment on the financial terms of the deal, nor disclose what percentage of the company Kitty Hawk had previously owned. He describes Kitty Hawk as a "group of pioneers" that developed in Silicon Valley the first electric take-off and landing (eVTOL) vehicle, achieving the industry's first transition from vertical to forward flight, among other milestones.
Since 2019, Wisk has been "operating hand-in-hand with Boeing" to develop its autonomous and fully electric conceptual aircraft, Yutko says.
In September 2022, Kitty Hawk said it would "wind down" as a company, but its joint venture with Boeing – Wisk – would carry on.
'SMALL COMPANY, INNOVATIVE THINKING'
Wisk's new partnership with Boeing will "combine the best small-company innovative thinking with one of the biggest and deepest aerospace companies in the world", Yutko says. He adds that Wisk stands to benefit from Boeing's experience with certifying aircraft and its relationship with airlines around the world.
Wisk will retain its independence despite becoming wholly owned by Boeing, Yutko says, adding that its strategies for certification and launching operations remain unchanged.
Wisk plans to unveil the production-conforming version of its eVTOL aircraft – the sixth generation of its air taxi – during the Paris Air Show set for 19-25 June, Yutko says.
The aircraft is designed to cruise at about 120kt (222kmh) with an 87nm (160km) range, and is designed to carry four passengers.
Operations are envisioned as "autonomous with human oversight", with a ground-based supervisor monitoring multiple aircraft simultaneously and giving basic commands with a mouse and keyboard, Yutko says.
"There are very few inputs that a remote supervisor actually gives the aircraft," he says. "Humans at the supervisory station are providing complementary functions for the aircraft. When the aircraft takes off, it has everything it needs even if loses its path."
The commands are limited partly due to cybersecurity concerns. "The aircraft is designed in principle to not be able to hurt itself," Yutko says.
The start-up has not publicly disclosed a target date for achieving certification and launching operations, but Yutko says it is pushing to clear regulatory hurdles "this decade". Its type certification and Part 135 operations certification programmes are in progress with the Federal Aviation Administration.
Yutko acknowledges that eVTOL companies betting on piloted rather than autonomous operations – such as fellow California Bay Area start-ups Archer Aviation and Joby Aviation – will "not probably, but certainly" reach market before Wisk. Though he believes that Wisk's pilotless design will prove to be the winning market strategy, he is "rooting really hard for some of those airplanes to get certified. To do that is huge."