Electric propulsion company Magnix confirms that an electric-powered Cessna 208B Grand Caravan landed under degraded power after an issue with an inverter during a test flight earlier this year.
"We had an electrical issue where one of the four inverters did what it was supposed to do – it shut down, leaving the pilot [with] only 75% power," Magnix chief executive Roei Ganzarski told FlightGlobal on 17 December. "It wasn't that the battery died."
Magnix and flight testing company AeroTec partnered to fly a Caravan equipped with Magnix's 750hp (559kW) Magni500 all-electric powerplant.
The aircraft, dubbed an "eCaravan", made its maiden flight on 28 May from Grant County International airport in Moses Lake, Washington.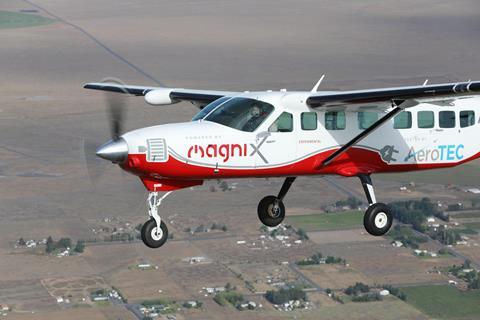 It flew for about 30min before landing safely, according to the company.
Ganzarski says the electric system "did exactly what it was supposed to do" during the test flight. The system lost only partial power and the programme has benefited from the lessons learned, he adds.
He was responding to a question about whether the aircraft's pilot had been forced to land without power. That is only "partially" true, Ganzarski says.
"When they had a fault coming out of the electrical system into one of those inverters, that inverter shut down in order not to impact the rest, and did what we call a graceful degradation, leaving the pilot with partial power," he says. "So, it only shut down a quarter, versus if you have a fault with an engine, you'd have to shut the whole thing down."
An inverter controls the frequency of power supplied to a motor to control its rotation speed.
Magnix, which has offices in Australia and Seattle, has been working on the Grand Caravan project alongside other electric-aircraft efforts.
The electric propulsion specialist is one of two companies supplying propulsion systems for Alice, an all-electric nine-passenger aircraft being developed by Israeli company Eviation Aircraft.
And in December 2019, Canadian commuter airline Harbour Air flew a Magni500-powered de Havilland DHC-2 Beaver. That airline and Magnix are working to have that configuration certificated.
As configured, the Magni500-powered Grand Caravan can carry 4-5 passengers on flights up to 100 miles, taking into account the need for reserve power, Ganzarski says.
Magnix and AeroTec say their modified Grand Caravan proves that small all-electric aircraft can feasibly and economically operate short routes that airlines had long ago abandoned.
On 9 December, Magnix said that it was working with Sydney Seaplanes, a leading seaplane operator based in the eastern Australian city, on the first Electric Cessna Caravan supplemental type certificate (STC), which is expected to be completed by the end of the first quarter of 2023.
Additional reporting by Jonathan Hemmerdinger