Utah battery company Electric Power Systems (EPS) has joined an effort by start-up Regent Craft to develop a wing-in-ground effect passenger vehicle.
EPS disclosed the partnership on 20 April, saying it intends to supply "power integration technology" for Regent's still-conceptual, all-electric 12-passenger craft.
Regent is developing what it calls a "seaglider" – otherwise known as a wing-in-ground effect craft.
Whether seagliders are "aircraft" depends on who is asked; Regent says it is not, but the Federal Aviation Administration (FAA) says it is.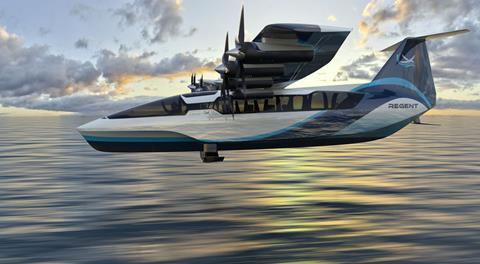 The FAA and United States Coast Guard (USCG) say they are now working on how to address certification questions.
Wing-in-ground effect craft take off from the water and fly close to the surface, benefiting from ground-effect, which sees the craft riding on the cushion of air forming between its wings and the ocean surface.
Regent aims to bring its conceptual, all-electric, 12-passenger Viceroy variant to market around mid-decade. Viceroy will have 160nm (296km) of range and travel at speeds of 160kt (300km/h), Regent says. It plans to develop a larger craft called "Monarch", for service entry by 2028.
Regent, with offices in Boston, is marketing the designs as ideal for providing regional commercial transportation. It has also pitched military applications.
EPS has financial backing from Boeing, JetBlue Technology Ventures, Safran and Lockheed Martin Ventures. It has already worked on several electric aircraft projects, including those led by start-up developers Ampaire and Aura Aero. It also supplied the battery system powering Embraer's modified, all-electric EMB-203 Ipanema.
"Their expertise in producing high-quality, efficient battery technology is second to none, and they share our deep commitment to safety. We are confident that their battery solution will help make the seaglider a true game changer in the transportation industry," says Regent chief executive Billy Thalheimer.
But hurdles remain, including unsettled regulatory questions. The USCG has been studying such craft – and how they could operate safely in marine environments – under a mandate from Congress.
Confusingly the FAA is also involved. "The FAA and United States Coast Guard share regulatory responsibility for these type of aircraft, just as they do with seaplanes," the FAA says. "The agencies are working together to address certification needs of this re-emerging industry."