Embraer has entered into a strategic partnership with global technology company Thales for its in-development electric vertical take-off and landing (eVTOL) vehicle, Eve.
"The strategic partnership involves a series of joint studies over a twelve-month period, which started in January 2022, on the technical, economical and adaptable feasibility of a 100% electrically powered aircraft," the Brazilian airframer says on 20 April. "Thales will also contribute with its expertise in developing avionics, electric, flight control, navigation, communication, and connectivity systems."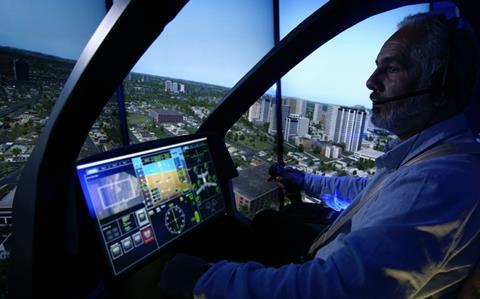 Embraer has partnered with Thales for more than 30 years, the company adds.
"Thales is actively engaged in urban air mobility emergence," says Yannick Assouad, Thales' executive vice-president of avionics. "This industry is coming to stay and will bring many advantages to the country, particularly concerning the environment, due to the use of clean energy."
Both Thales' technological space centre in San Jose dos Campos and its recently opened avionics centre in San Bernardo do Campo will provide support to Eve's and Embraer's teams working on the project. It will also bring in engineers from France, Canada and the United States, Embraer adds.
Embraer is moving closer to divesting Eve, saying last week that it expects to close the sale of the business to shell company Zanite Acquisition on 9 May. The sale still requires approval from shareholders of publicly traded Zanite, which has scheduled a shareholder vote for 6 May.