Embraer has delayed the E175-E2's service entry by one year, until 2024, saying it is continuing certification work on the regional jet, but on a revised timeline.
"Given the current market conditions for commercial aviation as a result of the Covid-19 pandemic, Embraer has rescheduled the start of operations of the E175-E2 jet by one year to 2024," the company says on 29 April;
The smallest and final member of the E2 family, the E175-E2, has been repeatedly delayed.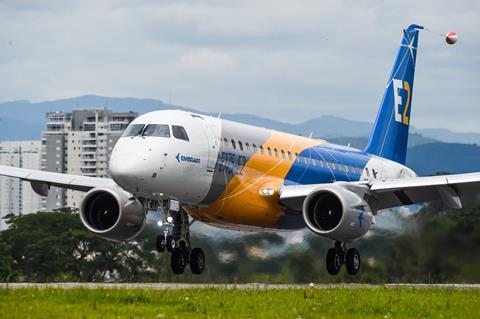 It flew its maiden flight in December 2019 and was originally scheduled to enter service in 2021.
E175-E2s, which can seat 80-90 passengers depending on configuration, may be an attractive proposition for some airlines, but the Brazilian jet maker is largely hindered from selling the type in North America – the biggest regional jet market in the world.
The jet exceeds the so-called "scope clause" limits in pilot contracts – provisions between major US airlines and pilot unions that keep airlines from farming out more flying to regional airlines.
They largely prohibit regional affiliates from operating aircraft that have more than 76 seats or maximum gross take-off weights exceeding 86,000lb (39,000kg). While the first-generation E170 and E175 did not exceed that limit, E175-E2s, with heavier Pratt & Whitney PW1700G turbofan engines, put E175-E2s about 12,000lb over that maximum weight.
"We don't expect scope clause changes in the short term in the US and we keep optimising investments and assess market conditions," Garcia says.