Brazilian airframer Embraer delivered 47 jets during the second quarter, 47% more than it did in the same period last year.
The company, headquartered in San Jose dos Campos, said on 3 August that it delivered 17 commercial jets – 10 E175s and seven E195-E2s - and 30 executive jets, of which 19 were light and 11 were midsize jets, during the three-month period that ended on 30 June.
Compared to the same three months last year, volume increased by 55% in commercial aviation and 43% in executive jets.
The airframer ended the quarter with a firm order backlog of $17.3 billion.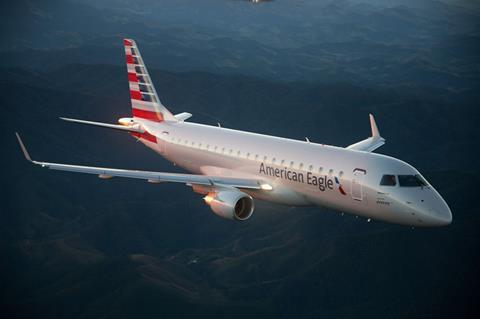 In the first half of 2023, Embraer delivered 62 aircraft – 24 commercial and 38 executive – to customers.
American Airlines ordered seven new E175s for its subsidiary Envoy Air during the quarter. Deliveries of these jets will begin later this year, and Envoy will have "over 141" aircraft by the end of next year, the company says.
Spain's Binter Canarias ordered six E195-E2s, bringing that carrier's E2 fleet to 16, while Malaysia's SKS Airways plans to add ten of the same type to its fleet.
Singaporean low-cost carrier Scoot will add nine E190-E2s and Royal Jordanian Airlines reached an agreement to introduce eight E190-E2 and E195-E2 jets into its operations. Deliveries of those will begin in the fourth quarter.
The commercial firm order backlog is 271 jets - 82 E175s, 16 E190-E2s, and 173 E195-E2s.
On the executive jet side, Embraer delivered one Phenom 100, 18 Phenom 300s, 6 Praetor 500s and 5 Praetor 600s.
Also during the second three months of 2023, NetJets signed a contract with Embraer for up to 250 Praetor 500 jet options, valued at more than $5 billion, Embraer says. Deliveries of those are expected to begin in 2025.