With the difficult-to-abate business aviation sector increasingly embracing carbon-cutting technologies, Embraer Executive Jets is "doing its part", according to chief executive Michael Amalfitano.
The business jet manufacturer is hyper-focused on "sustainable technology solutions to propel aviation forward", Amalfitano said ahead of the NBAA show on 16 October.
"Advancing greener propulsion solutions is a part of that future," Amalfitano says. "When you look at our enterprise efficiency, it's how you build things – you have to reduce production time, you have to reduce cycle time, you have to improve quality."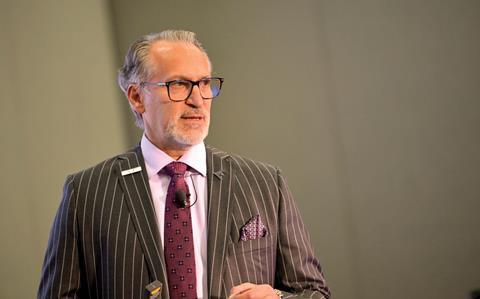 He adds that Embraer Executive Jets is working to reduce costs and boost efficiency at its plants in Brazil, Portugal and the USA.
"We have targets within Embraer to achieve by 2030 fully renewable energy on all our sites," he says, adding that the company is ahead of schedule. Next year, its production facilities in Brazil and Portugal will be powered with 100% renewable electricity, while its plant in Melbourne, Florida will begin conversion to 100% solar power in 2024.
"We are well on our way to achieving the goal of zero emissions, using all renewable energies in how we produce our aircraft," Amalfitano says.
Those initiatives reflect the broader change under way throughout the sector. He cites recent market surveys that show that business jet operators are increasingly embracing sustainable aviation fuel as a means of cutting operational emissions.
Honeywell's annually published Global Business Aviation Outlook, for example, contains questions about sustainability. The 2021 survey revealed that two-thirds of business aviation operators had no plans to cut emissions, but that figure fell to 40% in 2022 and to 33% this year.
"There is a significant increase in the adoption and awareness of sustainable aviation fuel," Amalfitano says, adding that there is also "huge optimism" on the continuing development of electric propulsion systems: "This is powerful feedback from people who fly business aviation aircraft today."