After delivering just 57 commercial aircraft in 2022, Embraer anticipates recovering output to a pre-pandemic-era level of around 100 jets annually by later this decade.
Commercial jet shipments are expected to total 65-70 units this year, according to Embraer chief financial officer Antonio Carlos Garcia, with seven of these having been transferred during the first quarter. Notably, he says this year's total will include just 26 E-Jet E1s, making it the first when more examples of the new E2 model will be handed over.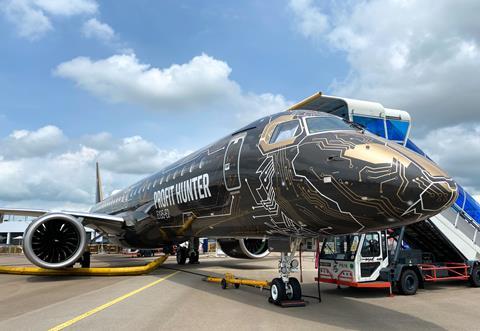 "We are working to ramp up production to more than 100 aircraft per year, as we did in the past," Embraer chief executive Francisco Gomes Neto said on 25 May, during the company's pre-Paris air show media event near Lisbon, Portugal. "We believe that in three or four years from now we will be able to achieve that number again," he adds, although the airframer officially cites a target of 2027-2028. Such an output would reflect increased sales demand, a reduction in supply chain challenges and the easing of a US pilot shortage.
Embraer's annual output is already on a path to recovery, having climbed from 48 commercial jets in 2021 and 44 the previous year. It shipped 89 E-Jets in pre-pandemic 2019 and 90 in 2018, last achieving triple-figures – at 101 aircraft – in 2017.
STRONG DEMAND
Embraer Commercial Aircraft chief executive Arjan Meijer notes that the airframer has so far sold more than 2,000 E-Jets, after launching the E1 programme with a business target of 650 units. By late-May, this total included 1,747 E1s and 270 E2s. Deliveries of the re-winged and re-engined E190-E2 and E195-E2 started in 2018 and 2019, respectively, and it has now shipped more than 70 examples.
Embraer is currently running campaigns covering the potential sale of 200 E-Jet E2s. Opportunities include with airlines needing to replace their E1-standard aircraft, plus more than a combined 1,000 Airbus A319s and Boeing 737-700s.
While some operators could move up in aircraft size to larger A320-series jets or the 737 Max 8, Meijer notes: "We believe that many airlines will hesitate to replace those aircraft with the smallest narrowbodies, because the economic value is falling short."
He also sees increasing interest in a 100-150-seat "crossover jet" market for regional aircraft to operate beneath narrowbody fleets. He points to recent E2 selections by Royal Jordanian, SalamAir and Scoot as examples.
"We have seen an uptick in this segment over the last couple of years," he says, with airlines interested in lowering their per-flight operating costs.
Referring to Scoot's decision to take nine E190-E2s from lessor Azorra, he notes: "They really saw the benefit of adding a smaller model" beneath A320s and 787s.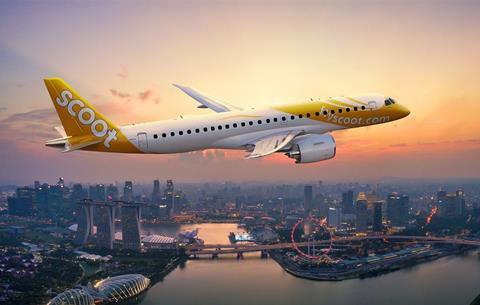 Meijer also believes the E2 has strong sales potential in China. Embraer in 2022 secured Civil Aviation Authority of China certification for its E190-E2, and is aiming for E195-E2 approval late this quarter, or in the second half of this year.
"We believe they could perfectly co-exist and complement the Chinese products," he says, referring to Comac's ARJ21 and C919.
US SALES
Additionally, Meijer believes the company will enjoy a fresh wave of E175-E1 sales to US carriers to replace current fleets of the type, since there is no sign of near-term change to current scope clause restrictions.
"We have active campaigns in the US, and we expect to announce some developments shortly," he says.
Meanwhile, he also has detailed the operational performance of the E2 family, amid challenges including the supply and support of Pratt & Whitney (P&W) PW1900G engines.
"The [E2] fleet is doing really well," Meijer says, noting that as of late-May, only 12 delivered examples were out of service, due to engine issues and other factors.
He notes that as the E2 was the third platform to enter service with P&W's geared turbofan-family powerplants – following the A320neo and A220 – the lighter-weight type has been less affected.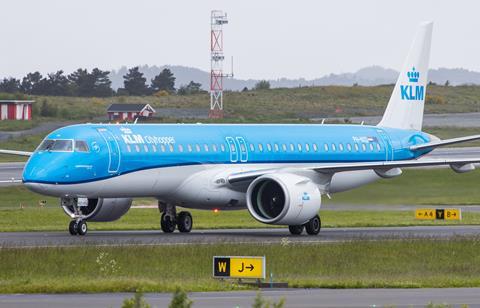 PW1900G engines are being delivered with Block C combustor enhancements installed, with an intermediate C6 solution to address accelerated lining wear already implemented. Embraer is expecting a final configuration to be in place by the fourth quarter of 2025.
"We have solutions coming to the market, and we are working that hard with Pratt & Whitney in partnership," he says. "We are happy with the engines that we are getting from the supply chain, but had we been able to get more we could have delivered more aircraft. But we are not holding back any deliveries because of this issue."
Meijer says the engine situation "is definitely a topic in discussion with the customers", but notes: "the improvements will come online in the next couple of years, with the [delivery] positions that we are talking to airlines about. The engines that those customers receive will have an even more improved technology level."
Story updated with amended 2027-2028 target for annual deliveries to return to triple figures.