Russia's war against Ukraine has left Embraer concerned about long-term supply of titanium, though the airframer has enough of the metal stockpiled to support up to two years of production.
"Titanium is the number one concern," Embraer executive vice-president Antonio Carlos Garcia says on 10 March.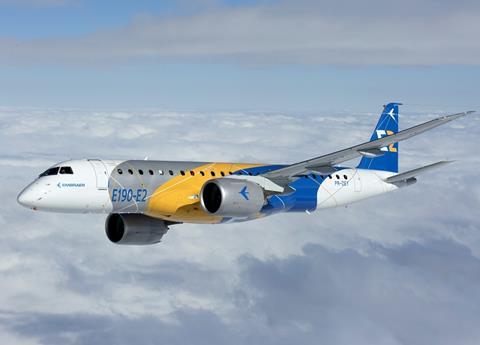 He adds, however, that any titanium shortage will have no immediate impact on Embraer.
"We have enough strategic inventory," Garcia says, speaking the day Embraer released its full-year 2021 financial results. "We do have inventory that is good for a year-and-a-half to two years, so we don't see any disruption in the supply chain."
Embraer is among major commercial aircraft manufacturers that have historically relied heavily on Russia to supply the titanium used to produce their jets. Nearly all of the titanium recently used by Embraer has come from Russia, according to aerospace analyst Kevin Michaels with consultancy AeroDynamic Advisory.
About one-third of titanium used by Boeing, and half of Airbus's titanium, has until recently come from Russia, Michaels says.
The airframers use Russian titanium to produce aircraft structures. Russian companies also supply titanium components like landing gears.
Russia's 24 February invasion of Ukraine opened the prospect of a titanium shortage. Western governments responded by slapping Russia with economic sanctions that have hindered the transfer of funds, making cross-border transactions difficult.
In response to the invasion, many Western companies have pledged to close Russian operations or curtain business deals with Russian partners. Those firm include Boeing, which on 7 March said it will no longer purchase titanium from Russia.
Embraer's Garcia says his company works with more than one titanium supplier, though he does not provide details.