Embraer's revenue surged in the second quarter of 2023 as it significantly ramped up the pace of new aircraft deliveries.
But the delivery bump was insufficient to keep Embraer out of the red: the Brazilian manufacturer on 14 August said it lost $18.8 million in the quarter. Nonetheless, this marked a solid year-on-year improvement and executives insist Embraer is on the upswing.
"The [second-quarter] results show that we are making consistent progress in our journey to improve the financial performance," Embraer chief executive Francisco Gomes Neto says.
"There are several ongoing serious campaigns, especially in defence and commercial aviation."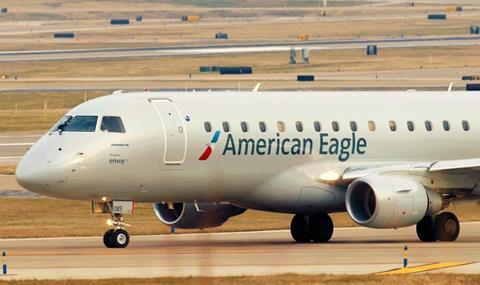 He insists those campaigns will see the Sao Jose dos Campos-based company disclose new commercial aircraft orders worth $700 million in the third quarter of this year. Gomes Neto confirms that the $700 million figure includes deals with more than one customer but declines to elaborate.
Embraer's $18.8 million second-quarter loss compares to losses of $71 million in the first quarter of this year and $146 million in the second quarter of 2022.
Revenues for the three months to 30 June stood at $1.3 billion, a 27% year-on-year increase, while the half-year figure is $2 billion.
Its commercial aerospace business logged the strongest revenue gains, generating $472 million in the second quarter, 57% more than in the prior-year period. Those gains came as Embraer succeeded in getting more of its commercial jets into customers' hands.
The company delivered 17 commercial aircraft in the second quarter – 10 E175s and seven E195-E2s – compared to the delivery of eight E175s and three E195-E2s in the same period a year earlier.
Embraer says it is tracking to deliver a total of 65-70 commercial aircraft in all of 2023, and to hike deliveries to more than 100 commercial aircraft annually by 2025 or 2026.
"We believe the E2 family is on the rise on the market," says Gomes Neto.
Embraer's other divisions also contributed to its overall improved results last quarter.
Its executive aviation business logged $378 million in second-quarter revenue, a 42% year-on-year bump that also reflects more aircraft delivered.
During the second quarter, Embraer handed 30 business jets to customers, up from 21 in the same period of 2022.
Embraer's aftermarket support business brought in $340 million in revenue during the second quarter, up 6% year on year.
Only Embraer's defence business suffered a revenue slip in the quarter, generating $82 million, down 28% compared with the same period of 2022.
Gomes Neto insists Embraer expects this year to announce new orders for both its Super Tucano light-attack and training turboprop and for its KC-390 military transport aircraft.