Embraer and two Fokker companies have agreed to collaborate to advance projects related to commercial and defence aerospace projects, including aftermarket services.
The collaboration stands to involve Embraer's C-390 transport, special-mission aircraft and advanced commercial aviation technology, including hydrogen propulsion, Embraer says on 18 October.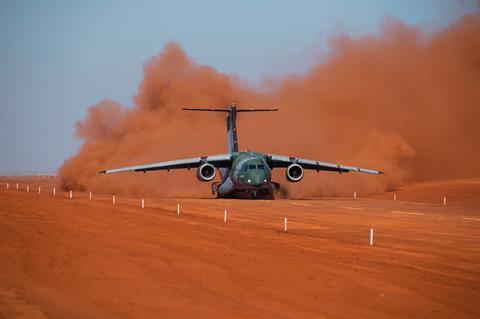 Embraer, Fokker Techniek and Fokker Services signed a memorandum of understanding (MOU) that "opens opportunities to explore a broad range of activities in the defence, commercial and support markets", Embraer says.
Fokker Techniek, which performs aircraft completions and refurbishments, and Fokker Services, an aircraft repair, maintenance and overhaul shop, are part of Dutch company Fokker Services Group.
"In the coming months, Embraer, Fokker Services and Fokker Techniek will discuss a variety of opportunities and look to leverage their respective expertise and capabilities in new projects," Embraer says.
The Brazilian airframer described the partnership as potentially touching a range of projects. But it provides few specifics.
Embraer does say that joint projects could relate to the "C-390 Millennium transport aircraft and potential specific end-user requirements, as well as future fleet support". Other defence work could involve conversion and completion of "special-mission and special transportation" aircraft.
The companies intend also to explore joint commercial aviation-related work, including "engineering and logistic support" and "hydrogen-powered aircraft development", Embraer says.
On the aftermarket front, Embraer and the Fokker entities intent to work together on "programme support, logistics, repair services and all other support opportunities".
News of the agreement comes about 18 months after Boeing scuttled a planned $4.2 billion acquisition of Embraer's commercial aircraft division. Since then, Embraer executives have expressed interest in finding other aerospace partners.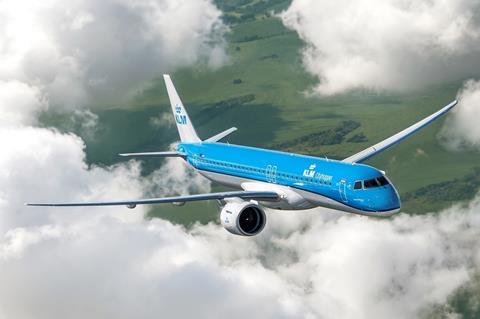 "There is huge potential for both companies in the development of opportunities together. This is a very important step on Embraer's strategy to establish meaningful and strategic partnerships around the globe," says Jackson Schneider, chief executive of Embraer Defense and Security.
Embraer Services and Support CEO Johann Bordais calls the Fokker companies "well-known and reputable… with roots in building aircraft and supporting aircraft fleets worldwide".
"Their network, experience and worldwide recognised aviation tradition will be a perfect match with Embraer Services and Support," Bordais adds.
Fokker Techniek CEO Roland van Dijk says his company's "heritage and deep understanding of aircraft products and solutions will allow us to bring a unique perspective to the many development areas that Embraer is investigating".
"We are confident that many exciting projects will arise over the coming years," adds Fokker Services CEO Menzo van der Beek.