Embraer pitched its next-generation turboprop concept to regional airline executives during a 27 September event, saying such an aircraft could replace the hundreds of old 50-seat jets still operating in US fleets.
The Brazilian airframe's vice-president of aviation in the Americas Mark Neely made his comments during the Regional Airline Association's annual meeting.
Airline executives who also spoke at the event agreed they need a replacement aircraft, though they stopped short of saying Embraer's turboprop will perfectly fit the bill.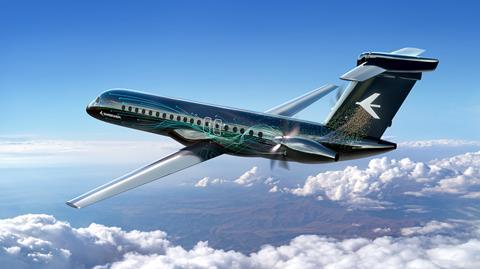 Neely describes Embraer's turboprop concept as "a family of airplanes" that would carry 70 to 90 seats. But, he says, Embraer is considering offering a 50-seat variant.
In August, Embraer unveiled what it called a "proposal" to develop a regional aircraft with two aft-mounted props. Neely says the design would have the same "cabin" as Embraer's E-Jets. The airframer has still not officially launched the development programme.
In June, Embraer Commercial Aviation chief executive Arjan Meijer said the airframer could launch the turboprop in 2022, with service entry in 2027 or 2028.
Also speaking during the RAA's event, Republic Airways CEO Bryan Bedford calls Embraer's concept an "interesting opportunity", noting that turboprops are typically more fuel efficient than jets.
"The tradeoff, obviously, is speed" and the presence of "big propellers, which Americans seem to hate", he says.
Bedford cites other technologies – specifically geared turbofans and un-ducted fans (also called propfans) – as examples of different engine architectures that could help the industry improve efficiency.
Additionally, he calls for tax incentives to support greater user of biofuel, also known as sustainable aviation fuel.
US airlines operate about 600 50-seat jets (including Bombardier CRJ200s and Embraer ERJs), according to Cirium fleets data. Most of those aircraft are more than 15 years old; some are nearly 30 years old, data shows.
"There is a tremendous opportunity for manufacturers" to develop a replacement, SkyWest Airlines CEO Chip Childs says during the RAA event. "If we are still flying the same fleet in ten years, we are going to be in trouble."