Embraer plans to launch a joint venture with Japanese electric motor specialist Nidec to develop and sell electric propulsion systems for the aerospace industry.
The Sao Jose dos Campos-headquartered aircraft manufacturer disclosed the new partnership – to be called Nidec Aerospace – in Le Bourget on 18 June, one day before the Paris air show starts.
The companies outlined a plan to develop propulsion systems for the electric vertical take-off and landing (eVTOL) segment, including for the air taxi under development by Embraer-owned Eve Air Mobility. They plan to expand the technology for use with larger aircraft, possibly including future Embraer regional aircraft.
"We will start with the eVTOL, but the idea is to explore this partnership" to power other modern aircraft, says Embraer chief executive Francisco Gomes Neto.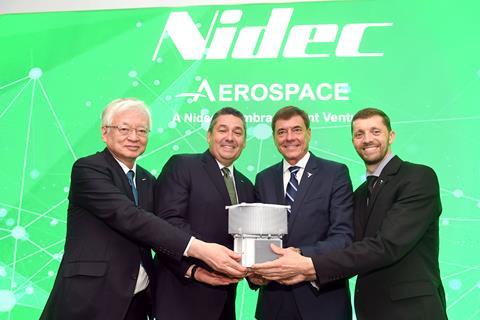 The deal still must be approved by both companies' boards of directors and clear regulatory approvals. Nidec Aerospace would be 51% owned by Nidec and 49% owned by Embraer, headquartered in St Louis (Missouri) and "supported by both companies' existing footprint in Brazil and Mexico", they say. The deal is expected to close before the end of this year.
Eve will be the launch customer for the joint venture's electric propulsion system, and the partnership's growth will be driven initially by the emergence of the broader urban air mobility (UAM) industry, the companies say. Embraer owns a majority of Eve.
But the partners plan to "go after the full market" and "design, certify and mass produce" the technology for aerospace segments beyond UAM, says Michael Briggs, Nidec president of motion and energy.
The deal represents Nidec's first venture into the aerospace industry. Founded in Kyoto, Japan, Nidec has more than 100,000 employees globally.
"Nidec believes in everything that spins and moves," Briggs says. "We want to look at how we can make every motor… and a more cost-efficient and innovative technology."
In addition to advancing electric aircraft technology under Eve, Embraer has pitched development of two hybrid-electric aircraft as part of its "Energia" family of conceptual airliners. Those concepts include the 19-seat E19-HE and 30-seat E30-HE, for possible service entry in the early 2030s.