Embraer has delayed a decision about whether to develop a proposed turboprop airliner after determining that suppliers are presently unable to meet its goals for the aircraft.
"As of today, the options available from a few suppliers are not yet there with respect to all targets," the Brazilian airframer says.
"Embraer has decided to postpone the decision on whether to go ahead with a next-generation turboprop aircraft, but will work closely with potential suppliers during the course of 2023 to secure the business the programme requires."
Embraer had previously said it would likely announce its decision on whether to launch the aircraft in the first quarter of 2023. However, it has given no indication as to when any launch will now take place.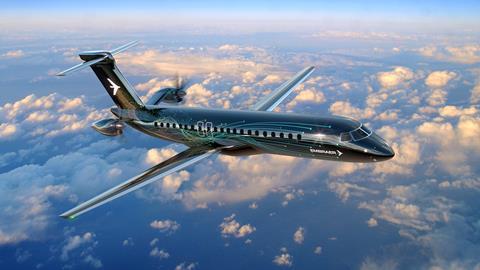 The news marks a further setback for a turboprop programme that Embraer has pitched for years, most recently saying it intended to develop two variants, one with 70 and one with 90 seats.
It has marketed the aircraft as bringing much-needed modernity and efficiency to a segment of the airline market badly in need of update. That segment is now dominated by out-of-production regional jets and turboprops based on decades-old designs made by ATR and De Havilland Canada.
But Embraer insists its schedule slip does not reflect lack of interest from operators.
"Embraer's market studies and discussions with airlines shows strong demand exists globally for an advanced next generation turboprop aircraft," it says. "However, the program only works if it meets targets on performance, maintenance and sustainability."
The company does not specify which suppliers are unprepared to meet programme targets.
But, the aircraft's powerplants have always been an open question. Though engine manufacturers continue updating existing in-service engines, they have not committed to developing a clean-sheet turboprop in the size class required for Embraer's concept.
Embraer has teased for years about potentially developing a new turboprop. But the project had recently seemed to be nearing a formal launch decision.
In May, company chief executive Francisco Gomes Neto said that decision might come in the first quarter of next year.
The company had also, in the last several years, tweaked the aircraft's design. It previously pitched the turboprop as having wing-mounted engines, but in 2021 modified the concept to have engines mounted on the aft fuselage.
Meanwhile, Embraer is studying the potential launch of a separate family of next-generation aircraft known as Energia. That family could include hybrid-electric-powered 19- and 30-passenger aircraft, with service entry possible around the early 2030s.