Embraer arrives at Farnborough riding the success of its E-Jet programme while seeking to build momentum behind its executive jets, C-390 military transport and a proposed new passenger turboprop.
The company has also been dabbled in higher-risk investments, notable among them being air taxi developer Eve. Also, last year, Embraer revealed a concept to develop a family of electric and hydrogen-powered aircraft.
From the outside, much has changed at Embraer since the last major summer air show – the Paris event, in 2019. Back then, Embraer was preparing to sell 80% of its commercial aircraft business to Boeing for a cool $4.2 billion.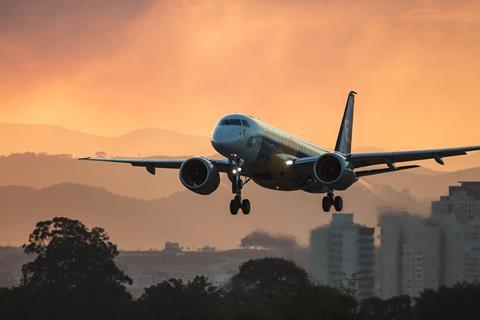 The combination was widely viewed as mutually beneficial. It would give Embraer a partner that could help the smaller airframer expand globally and support future Embraer development programmes. Boeing, meanwhile, would overnight secure a strong presence in the 70- to roughly 150-seat aircraft market, letting it better compete with Airbus, which made a similar move when it acquired majority ownership of the A220 programme from Bombardier in 2018.
But the whole Embraer-Boeing deal fell apart in April 2020 when Boeing, struggled under the weight of both the pandemic and its flailing 737 Max programme, backed out.
At the time, the loss appeared a significant setback for Embraer, which again stood alone in an increasingly consolidated industry.
But Embraer might now be counting its blessings. After all, Boeing's position has arguably worsened significantly in the past two years – the 737 Max programme has yet to recover, 787 deliveries have been largely halted since October 2020 and Boeing again delayed the 777-9's certification, this time until 2025. Also, Embraer has always had an independent, underdog streak – an asset that might have eroded under Boeing's wing.
Embraer had gone to great lengths in preparing for the Boeing acquisition, undertaking the difficult task of carving its commercial-aircraft business into a distinct unit.
In has spent much of the last two years putting itself back together, a process that caused the company to slow deliveries this year.
"This year we concluded the reintegration of the systems," Embraer chief executive Francisco Gomes Neto said in late May. "It was a painful and expensive project… We have a more-simple organisation. More flexible. We are ready in all respects."
All major airframers suffered handily amid the Covid-19 pandemic, with losses piling up and supply chain troubles hindering production.
"We are facing the impacts of this high inflation everywhere," Gomes Neto says.
Embraer lost $732 million in 2020, but parred that figure to a $45 million loss in 2021. Its deliveries have remained relatively muted. The company handed over 141 civil aircraft last year (including 48 E-Jets and 93 executive aircraft), up from 2020's deliveries of 130 aircraft (44 E-Jets and 86 executive jets). By comparison, in pre-pandemic 2019 Embraer delivered 198 aircraft, including 89 E-Jets and 109 business aircraft.
The slump persisted in the first quarter of 2022, when Embraer lost $32 million and delivered only six commercial and eight executive aircraft. The company said the dip resulted from a production halt in January, caused by the work of reintegrating the commercial division following the failed Boeing deal.
More broadly, Embraer has sought to shore up its operation. This year, it sold two aerostructure manufacturing sites in Portugal to Aernnova for $174 million. Embraer also moved a business-jet seat manufacturing operation from Titusville, Florida to nearby Melbourne, and sold the Titusville land.
Embraer is seeking to squeeze more efficiency from its E-Jet manufacturing plant at Sao Jose dos Campos, with plans to cut production lead times – the duration of a process, start to finish – 40% by 2023, it says. The airframer aims to accelerate production so that each airframe remains at each production station only 2.5 days before moving on. Currently, airframes move from station to station ever three days, down from four days last year, Embraer says.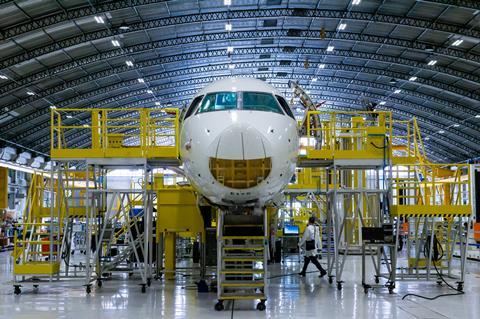 The company insists it is getting back on track, with plans to deliver 60-70 commercial and 100-110 executive jets in 2022. It expects to generate $4.5-5 billion in 2022 revenue, up from $4.2 billion in 2021.
Michael Amalfitano, CEO of Embraer Executive Jets, thinks pandemic–induced travel restrictions and airline cutbacks proved a boon to business aviation, pushing wealthier travellers to private aircraft. Executives at other business jet manufacturers reported the same trend.
"What we saw during the pandemic was this growth from the base of the marketplace," Amalfitano said in June. "That transformation was historical in nature."
The shift, he added, particularly benefits Embraer because new customers tend to favour the types of smaller business jets that Embraer produces.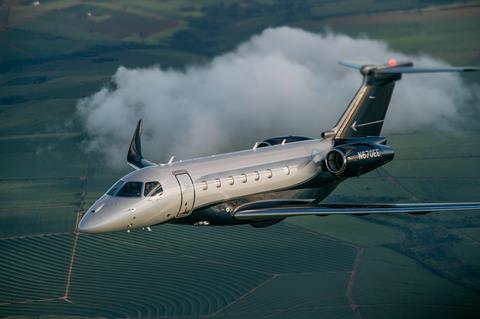 Demand pushed Embraer to record executive-jet sales growth in 2021. "The sales are continuing to grow", Amalfitano says, noting Embraer has no Praetor delivery slots until the second half of 2024.
Embraer Defense & Security CEO Jackson Schneider also sees fresh sales opportunities, particularly for Embraer's C-390 military transport. He cites changing geopolitical factors, including Russia's invasion of Ukraine and the hasty 2021 retreat by the USA and its European allies from Afghanistan.
"Many countries in the world… realise that their logistics systems are very old and need to be replaced," Schneider said in May. "They need to replace [those systems] as soon as possible."
The C-390 programme suffered a slight setback this year when the budget-constrained Brazilian air force – the type's launch customer – cut its orders from 28 to 22.
But Embraer has recently been engaged in "intense" C-390 sales campaigns, including with countries the airframer had not previously targeted as potential buyers, Schneider says.
Schneider also says such factors bode well for additional sales of Embraer's single-engined Super Tucano – specifically, those examples used for pilot training.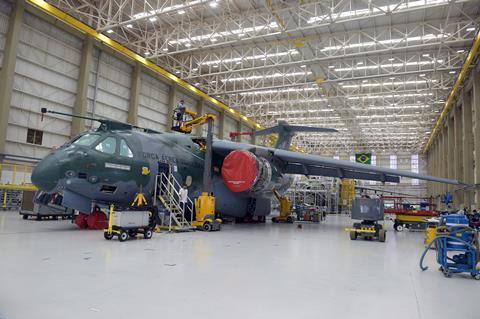 Embraer Commercial Aviation CEO Arjan Meijer likewise views the pandemic as shifting conditions to the benefit of Embraer.
"We are definitely coming out of Covid in a different form," Meijer said in early June, noting that many people moved from cities to smaller communities during the pandemic. That trend should support strong demand for travel at regional airports, and for E-Jets serving those airports, he adds.
"The connectivity across the regions became even more important" post Covid," Meijer says. "Airlines are really leaning into the smaller-capacity aircraft to rebuild their networks."
Embraer's E-Jet programme also stands to gain from the company's March launch of its E-Jet Passenger-to-Freight (P2F) conversion programme for E190s and E195s. On 24 June, Embraer revealed having received the first firm P2F orders, with an unnamed customer committing to "up to" 10 conversions.
That builds on a previous agreement – though not a firm order – by Irish lessor Nordic Aviation Capital to convert up to 10 E-Jets. Embraer said Nordic is the programme's launch customer, with deliveries to start in 2024.
Meijer says freighter-configured E-Jets will fill a currently void market segment – that between freighter turboprops and freighter narrowbodies.
"In the middle, there's a huge gap… There's nothing available there," he says. "The 190 [and] 195 E-Jets offer a great opportunity for cargo operators to connect the fleet between the turboprops and the bigger narrowbodies."
Embraer sees its P2F programme as a means to capitalise on increasing demand for cargo air shipments due to the booming e-commerce business.
"We are very bullish and very positive about this new development," Meijer adds.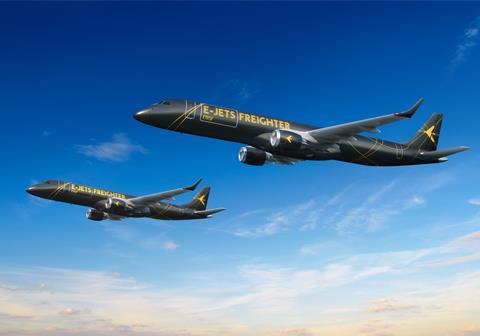 The E-Jet remains Embraer's flagship, and the programme now holds the distinction of being, essentially, the only remaining in-production regional jet. Embraer took that title after the recent demise of Bombardier's CRJ and Mitsubishi Aircraft's SpaceJet programmes.
Still, challenges persist. For starters, the Boeing deal collapse left Embraer a relatively small, independent company in an increasingly consolidated aerospace environment. Despite the E-Jet's success, Embraer faces formidable competitive pressure from Airbus's A220. In response, Embraer executives have repeated stressed that they are seeking new industrial partners with which to expand.
The viability of Embraer's in-development E175-E2 also remains in doubt. That aircraft could have massive sales potential if not for the little problem of its maximum gross take-off weight (MGTOW) exceeding the limit allowed for most US regional airlines – the exact customers for which Embraer developed the jet.
The problem rests in "scope clause" provisions within contracts between major US airlines and their pilots. Those clauses generally restrict major carriers' regional partners from operating jets with maximum gross take-off weights exceeding 39,009kg (86,000lb).
Thanks partly to its new and heavy Pratt & Whitney PW1700G turbofans, the E175-E2 exceeds the cap. The type's predecessor, the E175, comes in under the cap and has proved wildly popular among US regionals. Those airlines have some 670 E175s and the smaller E170s in service or storage, according to Cirium data.
Due to scope clauses, Embraer has been biding its time with the E175-E2, hoping new employment contracts will revise the MGTOW cap. In February, Embraer paused E175-E2 development. It now eyes service entry in 2027 or 2028.
"We do not see that changing in the short term," Embraer's Gomes Neto says of scope clauses.
Embraer's E-Jets will undoubtedly remain the company's banner product for years, but executives do have their eyes on development of clean-sheet models.
Seemingly most likely of those is a new turboprop – a project company officials have been hinting at for years but that now seems close to getting a green light.
"We hope to launch the programme around mid-2023," Meijer says, adding that the type could enter service "around early 2028."
Embraer anticipates offering 70- and 90-seat variants. Luis Carlos Affonso, Embraer senior vice-president of engineering, technology and corporate strategy, said in May that a 70-seat turboprop could replace 50-seat regional jets – types like CRJ200s and ERJs.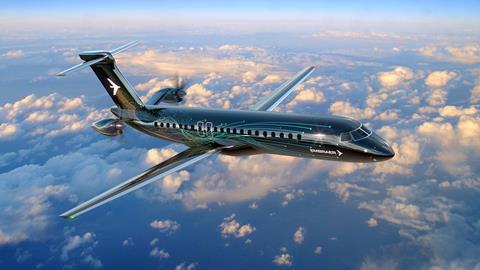 The jet-replacement market is particularly ripe for opportunity in the USA, he noted. Indeed, US regional airlines have more than 600 50-seat jets in service or storage, Cirium shows. Many of those jets are decades old; no viable replacements exist.
Embraer is now maturing its turboprop design, Meijer says. The aircraft will have the same fuselage as the E-Jet, and, in a recent change, Embraer moved the design's engines from being mounted on the wings to being mounted on the aft fuselage. That change will reduce aircraft noise and keep the props far from the eyes of boarding passengers, who, at least in the USA, tend to disfavour propeller aircraft, Embraer has said.
In June, Meijer said Embraer was conducting turboprop wind-tunnel tests, which would be completed by the end of August.
Embraer is also collaborating with industrial partners, including with engine makers. "This year, we want to make a decision on the turboprop engine," Meijer added.
Thanks to modern technology, the turboprop could burn 15% less fuel per seat than an ATR 72, and up to 30% less than a 50-seat jet, Meijer says. The aircraft, he adds, will be able to burn 100% biofuel from day one. Embraer anticipates airlines will need 2,260 turboprops during the next 20 years.
The company's long-term plan could also include much-more-revolutionary designs. Notably, in 2021, Embraer revealed it is studying a family of electric- and hydrogen-powered aircraft called its Energia family.
Though Embraer has not launched a formal Energia development programme, the company laid out a vision that first calls for developing a nine-passenger, 500nm (926km)-range hybrid-electric aircraft called E9-HE, for service entry by 2030.
The vision next calls for Embraer to develop two models, each with about 200nm of range and for 2035 service entry: the nine-passenger fully-electric E9-FE, and the 19-passenger hydrogen-fuel-cell-powered E19-H2FC.
Rounding out the conceptual line up, with service entry around 2040, would be the E50-H2GT, a 35- to 50-passenger aircraft with twin turbines capable of burning hydrogen.
Speaking in June, Meijer stressed that Embraer's Energia designs remain "concepts", not yet "products".
"We're progressing strong on this concept," Meijer added, noting that the work is putting Embraer on a path to reduce carbon emissions. The company has pledged to be carbon net-zero by 2050.
"This is really an effort by Embraer to show what we believe is achievable on new technology," Meijer says. "We believe the regional segment will lead the technical revolution."
Embraer's other technological ambitions include to make a winner of its Eve air taxi investment. The Brazilian airframer developed Eve in-house during the last several years before spinning the division in a standalone company in October 2020. Then, in May, Embraer brought Eve public on the New York Stock Exchange, generating more than $300 million in proceeds and leaving Embraer holding a 90% stake in Eve.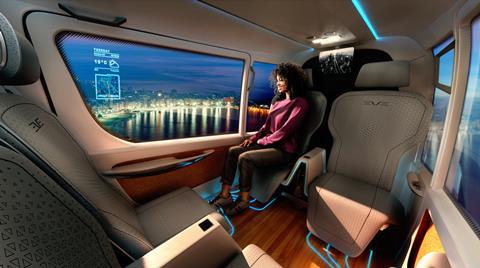 Eve is developing an electric vertical take-off and landing (eVTOL) air taxi that will carry four passengers and have 54nm of range, company documents show.
The air taxi concept itself remains barely more than a vision, with numerous hurdles yet overcome. But in June, speaking at Embraer's offices in Sao Jose dos Campos, Eve co-CEO Andre Stein struck an optimistic tone. He stressed that Eve is pursuing a more-conservative timetable than some competitors by aiming to deliver its first eVTOL around 2026. By comparison, some competitors have promoted 2024 service entry.
Also, Stein says access to Embraer's formidable design and certification resources will help cement Eve's success.
Eve has logged more than 1,800 "launch orders" for its eVTOL, though it notes that the orders are "non-binding". Aerospace experts generally say such "orders" likely involve little or no money down. They do, however, generate positive press for both parties.
Embraer is also working to increase revenue from its Services & Support business by about 15% annually, says that division's chief executive Johann Bordais. That would mean Embraer's service revenue will hit about $2 billion by 2026, up from $1.1 billion in 2021, Bordais adds.
Prior to the pandemic, Bordais had aimed for Embraer's service revenue to reach about $3 billion by late this decade, but the pandemic pushed that goal "to the right", he says.